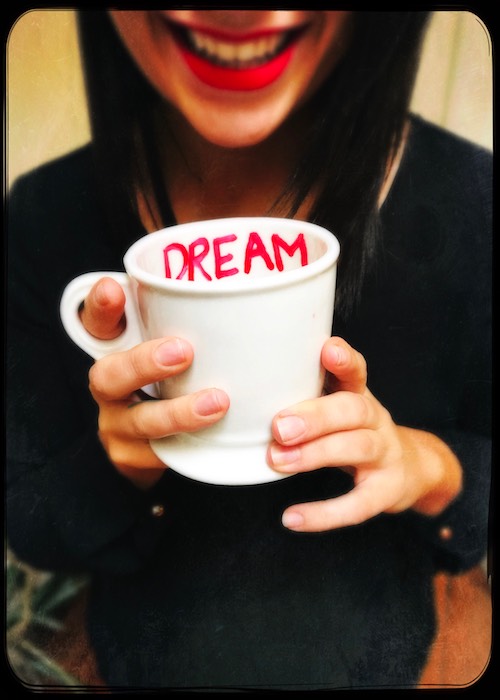 My first job was a barista at a coffee shop.
I worked there for four years. It's funny the things I remember about people.
I can't tell you their names (not for ethical purposes, I actually couldn't tell you), but I can tell you that the CEO of a major bank drinks her whole-milk latte with two inches of whipped cream. She has a thing for guys with motorcycles and tips a dollar every time.
The woman who owns the flower shop across the street comes in early to snatch the freshest pastries: one blueberry scone for herself and cinnamon for her mom. The bitter old lady who comes in at 8:00 a.m. will only drink her chocolate skim mocha if it's 200 degrees (and checks the drink thermometer herself to be sure).
The gaggle of middle-aged men in spandex who ride their bikes around the city every Sunday morning drink their coffee from porcelain mugs. They like to sit there for hours with half-decaf refills, catching up on life.
When I graduated high school, I decided to take a gap year to travel. To save up, I walked dogs, babysat, and woke up at 5:00 a.m. to serve coffee full time. There were a lot of mornings I stood behind that counter listening to my classmates' parents beam about what colleges their kids chose and the internships they scored. They'd ask what my future plans were and if I was going to school. Most days, I felt so small. I was fresh out of high school, working three jobs in an upper-class suburban bubble.
I spent my days watching "Thomas the Tank Engine" with a three-year-old, picking up dog sh*t, and reeking of Mocha Java. I had dreams to travel the world, but felt more lost than ever, drowning deeper in societal pressure with every coffee I poured.
On those days, there was one shining light. His name was John. The energy he carried with him was palpable. His demeanor was calm but exuberant. His smile: warm and always sincere. From him, I learned the importance of meaningful eye contact. He used words like "groovy" with such ease that it made me question if we were living in the '70s. Most impressive about him though was his ability to read people—always saying exactly what they needed to hear.
One morning, he stood behind my mom in line for a coffee on a day so destructive for her that life almost won. She never said a word. He just gently rested his hand on her shoulder and said, "Hey…it's a bad day, not a bad life. Remember that."
John was my favorite customer. He was memorable enough that I would have known his drink no matter how complicated it was; but his daily drink was a small coffee, room for cream. He ordered it:
"Small coffee, room to dream."
Some mornings he'd get there just as early as me and help me carry the tables and chairs out front. I'd always try to give him his coffee for free, but he'd never let me, sneaking an extra few coins in my tip jar. And every day I would add those coins, dusty with coffee grounds, into a five gallon water jug, watching it grow higher and higher—dreaming bigger and bigger.
There were so many points where it seemed like more than just a bad day. And when it did, I thought of him.
Working three jobs fresh out of high school—room to dream.
Brokenhearted—room to dream.
In the I.C.U. of a hospital wing—room to dream.
Living in the slums of Philadelphia with bedbugs—room to dream.
Jobless in Pittsburgh—room to dream.
Whether a bad day or a bad life, or in a cup of black coffee, all you need is a little space for dreams.
I realized later in life that John told me his order not because he thought I didn't know it, but because when he walked into that coffee shop, he saw a lost 18-year-old girl who needed to be reminded every day to leave room to dream.
When my water jug was full of coins, I cashed it in for a one-way ticket to Australia.
In loving memory of John Fehr.
~
~
~
Author: Kalin Alberts
Image: Author's Own
Editor: Travis May
Copy Editor: Yoli Ramazzina