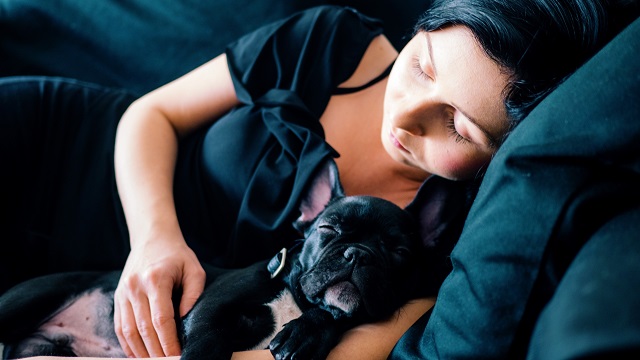 This is a post written in collaboration with PupBox—an Elephant partner. We're honored to work with anyone this dedicated to making it easier and more fun to raise a happy, healthy, well-mannered pup. ~ Ed.
"Puppies are the most trusting and joyous creatures on the planet.
Oh, to be more like a puppy."
~ Colleen Paige
~
There's no love like puppy love.
And I've got to agree.
But after the excitement of adopting our new rescue pup, an 8 week-old French bulldog called JoJo, and proudly introducing her to family and friends, the love was soon joined by frustration and overwhelm.
Not long after we brought her home, our sweet little furbaby started peeing everywhere: on our bathroom rug, our bedroom carpet, our welcome mat…basically any carpet-like surface, as long as it was not the lawn, and definitely not outdoors.
Reality hit.
We were in at the deep end with our new four-legged family member: deep puddles of pee that is. And no matter how enthusiastic and willing we were as new puppy parents, we weren't quite prepared for this side of puppy parenting.
We researched training methods and products that could help us, but soon gave up because there was just so much out there, and a lot of it only confused the heck out of us.
That first weekend, we were chatting over a family lunch about the best, most loving ways to train her and keep her busy. This was when my sister mentioned PupBox…and everything started looking up on our journey through puppyhood.
get YOUR FIRST PUPBOX FOR ONLY $10
As soon as I heard their story, I related. And when I saw what they offered, I knew we had to try it for JoJo.
You see, PupBox was started by people just like us. Ben and Ariel Zvaifler adopted their furbaby, Maggie (a fluffy Goldendoodle) when she was just 8 weeks old, and like many first time dog parents (us too) they became totally obsessed. The problem was they had no idea what they were doing.
All of the training information they received online and from friends constantly contradicted itself, and they had a hard time finding products that were suitable for Maggie's changing needs. So Ben and Ariel started PupBox to try and facilitate the puppyhood process by delivering all of the training information and products a new puppy owner needs, when they need it.
They're literally the only ones out there who focus specifically on the unique needs of puppies and puppy owners.

They deliver all of the products and training information new puppy owners like us need on a monthly basis. And each box is customized based on the stage of development and physical characteristics of your individual puppy to help walk you through all of the joys and challenges of puppyhood.
This was exactly what we and JoJo needed to get us started! So I signed up for the 3 month package. They have everything ranging from a single month order to a discounted 12 month package, but I wanted to see how she did with their boxes before I committed to anything longer than that.
We didn't have to wait too long to find out. I don't know who was most excited about our first delivery: us or JoJo.
get or gift pupbox for only $10
The 2-month-old box:
This first box was the answer to our puppy parenting prayers. It contained all we needed to know and have for crate training, house training, and creating a bond with our little girl. Inside, we found everything from pee spray to a probiotic puppy treat, from a soft plush toy for the crate, to hypoallergenic puppy wipes for easy cleanup of those puddle landmines that kept appearing all over the house.
The plush toy especially was an instant hit (and made crate training so much easier).
Suddenly, armed with all these awesome, constructive tools and tips to help teach JoJo some good house manners, we weren't quite as overwhelmed and frustrated. Their 10-step crate training guide was a lifesaver. She actually learned pretty fast after that, and we started enjoying this whole pawrenting thing.
Before we knew it, it was nearly time for our next delivery…
PupBox day was beginning to feel a lot like the new (monthly) Christmas!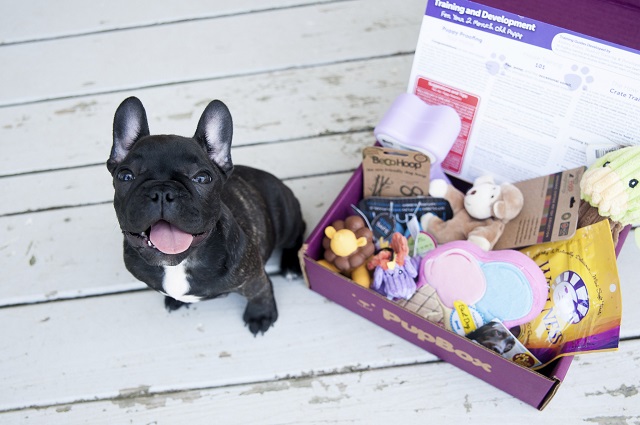 GET YOUR FIRST PUPBOX FOR ONLY $10
The 3-month-old box:
By this time, we were thinking about other aspects of training. JoJo was a little ball of energy and now that she'd gotten used to her new home, we wanted to get her out and about and stretching her legs a little more. But the theory of this was a bit different than the practice and I don't think any of us quite knew what hit us on that first walk on the lead round the neighborhood.
She was half afraid, half excited by everything we came across and so were we!
But, right on time, our next box arrived, full of information for us on positive reinforcement over punishment for JoJo's training, and different toy/chew options to consider for her. To help support all of us in this exciting new stage of puppyhood, PupBox had also sent us training treats, a training treat tote bag that connects to your belt (perfect for walkies), a stuffable/treat dispensing toy option (which turned out to be the big winner), and some teething chews. 
We started carving out 20 minutes of training time every day, focusing on positive markers, the right rewards, praise, and consistency to nip those habits (including nipping) that we needed to get her out of.
JoJo just loved this time, and soon learned exactly what "good girl" meant.
The 4-month-old box:
I totally agree with the folks at Pupbox when they say 4 months has got to be one of the cutest puppy stages—but it's not without its challenges.
JoJo is curious, fun, full of affection, has started to fill out and explore her surroundings more and more. But the teething struggles are real at this age, too. She recently started chewing with a vengeance on one particular corner of our favorite reclaimed leather sofa.
But it was PupBox to the rescue yet again because as soon as her 4-month-old box arrived she forgot all about the sofa. (Can you hear our huge sigh of relief from there?)
This was the last delivery in our 3-month package, and so far, the most popular with JoJo. We got it a few days ago and she has barely stopped playing with and chewing on all her toys since. She didn't even seem to know quite where to start at first.
She now has an interactive plush toy, teething rings, a bumpy teething ball, a bully stick, training treats, and a freezable teething toy to choose from, and we now had a lot of tricks up our sleeve to keep our sofa safe and JoJo happy.
Our box also had some age-related socialization tips for us, which have come in handy since JoJo has now had her shots and we're keen to take her out to meet new friends and discover new places. We also just signed up to our local puppy training school…
get or gift pupbox FOR ONLY $10
So, really, the fun has only begun for us. And we're definitely taking Pupbox along for the ride. I just signed up for another 6 months and I'm still as excited to get our next box every month as I was when the first arrived. Each one is so different and so right for where we're at with JoJo in each stage of her puppyhood.
PupBox aren't kidding when they say puppyhood is hard, but they definitely deliver on their promise to make it easier.
We've officially joined the happy PupBox pawrents league:
"Remi is loving his first PupBox!!! It has great advice and tips for this l'il 5 month old 'dogzilla.' The treats and toys are perfect for him! Can't wait to see what he gets next month!" ~ Jen P.
"Nika's second PupBox just arrived and it's EVEN BETTER than last month! Obsessing more and more over these boxes." ~ Frances C.
And JoJo is just one of the growing four-legged club who absolutely love their Pupboxes, judging by all their smiling faces! Head over to @pupbox to see more.
get YOUR FIRST PUPBOX FOR ONLY $10 
~
Brand Content Editor: Khara-Jade Warren