I…didn't expect this from Bill O'Reilly, the disgraced, longtime entertainment partisan over at Fox News.
This is the kind of non-knee-jerk, even momentary coming-together we all need. Racism has no place on left or right, upper or lower, anywhere in our great commonwealth:
Roseanne Barr's vicious personal attack on former Obama senior adviser Valerie Jarrett came out of nowhere and cost Ms. Barr and the entire staff of her program their jobs. @ABC/@Disney could not continue with the show without insulting millions of Americans.

— Bill O'Reilly (@BillOReilly) May 29, 2018
The president's son retweeted the Roseanne Barr Soros Nazi lie pic.twitter.com/w2UonLyPHN

— David Frum (@davidfrum) May 29, 2018
In a statement, Channing Dungey, president of ABC statement said, "Roseanne's Twitter statement is abhorrent, repugnant and inconsistent with our values, and we have decided to cancel her show."
Roseanne Barr, 2018: I apologize for comparing Valerie Jarrett, a black woman, to an ape. I should have known better. Forgive me—my joke was in bad taste

Roseanne Barr, 2013: I apologize for comparing Susan Rice, a black woman, to an ape. I should have known be pic.twitter.com/P10YtYH9Sc

— Jeff Yang (@originalspin) May 29, 2018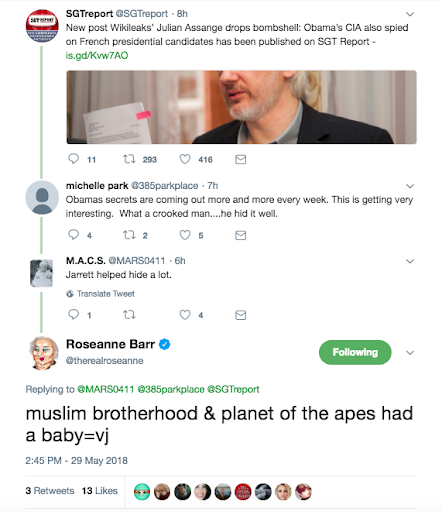 "Muslim brotherhood & planet of the apes had a baby=vj,"
Roseanne Barr just posted a racist tweet—ABC cancels her show. Click here to see her conspiracy-addled aggressions in twitterland. "The sad thing is she made the show to say that not all Trump supporters are racist bigots…then she went and said racist, bigoted shit." ~ Redditor
Roseanne's network wanted to showcase the average Trump voter. And that's exactly what they got.

— Molly Knight (@molly_knight) May 29, 2018
Barr cited numerous conspiracy theories during her unhinged rant on Tuesday including: "President Trump has freed so many children held in bondage to pimps all over this world. Hundreds each month. He has broken up trafficking rings in high places everywhere. notice that. I disagree on some things, but give him benefit of doubt-4 now."

Critics on Twitter slammed her 'racist' tweet and called on ABC to take action

She apologized to Jarrett an hour later and said that she was 'leaving' Twitter

Barr also falsely claimed Chelsea Clinton was married to George Soros' nephew
How do Conspiracy theories disseminate? One Redditor notes:
And if you think it isn't happening on this website, they've been active recruiting and using reddit for years.
The_Donald, Conspiracy, CringeAnarchy, GreatAwakening, etc. etc. Their brand of crazy is wide out in the open.
"Tom Arnold, Ms. Barr's former husband and co-star, called her Twitter posts "dangerous." And the MSNBC host Joe Scarborough said, "There is no apology she can make that justifies @ABC turning a blind eye to this bigotry by airing another second of her show." …read more.
Barr used Jarrett's initials and said "Muslim brotherhood & planet of the apes had a baby."
Remember how ABC refused to let Black-ish do an episode about NFL players kneeling?
~
Relephant:
5 Mindful Things to do each Morning.
The One Buddhist Red Flag to Look out For.