This post is via The Ayurveda Experience, Elephant's Mindful Partner. We're honored to work with them—they're dedicated to making Ayurveda more accessible to everyone and using only quality, authentic, healthy ingredients. ~ ed.
Ayurveda has a brightening, revitalizing, uber-nourishing beauty secret.
And it only takes three drops a day to take your skin from dull and dry to drop-dead gorgeous.
Whether you consider Ursula B's experience: "Three drops is all you need. It puts an instant golden glow on your skin. Wonderful consistency just perfect for a daily face massage. It says to use it once a day, but it's so addictive I use it morning and night. Its nutty scent is so organic and healthy. It leaves my skin hydrated and smooth. Can't live without it!"
Or the words of Aimee L: "I never write reviews about cosmetics but this one really has changed my approach to beauty. I love the rich texture that is immediately absorbed by my skin. Every morning I look forward to massaging my skin for a few seconds. Afterward, my skin feels as velvety and powder soft as a peach. Love the smell too." 

This seemingly magical Ayurvedic product certainly delivers, as these and many other fans of it will tell you. But it's not magic at all, it's Ayurvedic science.
A beautifying oil that provides lasting moisture unlike a face cream, and yet is friendly to oil-averse skin, iYURA Kesaradi® Oil is changing the way face oils look and feel.
Kesaradi® Oil is a blend of saffron, rose, turmeric, and 16 Ayurvedic herbs based on a recipe that's thrived for hundreds of years and is nothing short of legendary – a traditional Ayurvedic formulation that's rightly called "the beauty elixir" because of its complexion enhancing effects.
The history of that ancient formulation stretches back for millennia—first mentioned in an ancient Ayurvedic text called Ashtanga Hridayam, which historians stipulate to have been written in India between 500 BC – 250 BC, and then elaborated upon by other Ayurvedic texts like Chakradutt and Yoga Ratnakar, which have been traced back to around the 11th and 17th Century AD, respectively.
A recipe that's been perfected over thousands of years, this traditional formulation includes herbs that have since become endangered, are not allowed to be exported, or are not entirely suited for western skin. And so, Kesaradi Oil was created- a formulation based on that ancient recipe but with (Ayurvedic books-approved) tweaks to deliver the power of this age-old concentrate in our contemporary lives.
With regular use, you can expect 7 distinct changes:
A deep, radiating glow
An enhanced complexion
Toned look
Softened skin
Non-sticky, light moisturization that locks moisture in and creates a protective barrier
Reduced need to apply moisturizer again and again
An increase in compliments and questions about how you're glowing so much
The power of iYURA Kesaradi® Oil lies in its three key ingredients and unique, totally natural formulation.

1. Red Gold
Saffron sells for almost the same price as gold, making it the world's most expensive spice. An important Ayurvedic herb, saffron is so precious that, in some cultures, plain, pure dried saffron is given as a gift. It exhibits a number of medicinal and therapeutic properties, including high levels of vitamins B2, B3, B6, making it excellent for hair and skin. And, according to a classical Ayurvedic text called Bhavprakash, saffron helps with complexion enhancement, even-toning, and mitigates the three doshas, or Ayurvedic body types.
2. The Queen of Flowers
The intoxicating scent of rose is apparent when you open a bottle of iYURA Kesaradi® Oil, and this nurturing ingredient is used in two ways—in the form of rose water while cooking the oil, and in the form of rose essential oil added once the cooking procedure is over. Rose is soothing, cleansing, and calming for the complexion and traditional Ayurvedic texts hail it as a coolant (especially for Pitta, the fieriest dosha) and an enhancer of Varna: color or complexion.
3. The Golden Spice
It's none other than the Ayurvedic powerhouse: turmeric. According to Ayurvedic texts, turmeric improves complexion, promotes healing, and offers antiseptic benefits. iYURA Kesaradi® Oil brings the powerful benefits of turmeric to your skin every single day, with every single drop.
A lightweight, amber-colored emollient, iYURA Kesaradi® Oil is a daily use face oil that gives your skin an instant glow, deep moisturization and intense fortification without using a single chemical, preservative, or any mineral oil. Not only do Saffron, Rose and Turmeric promise a golden glow and an uber-soft skin texture, powerhouse herbs like Lodhra, Manjistha, and Vetiver help give a toned, clarified look to the complexion.
This oil is more than just a beauty product, it's a unique and uplifting aromatic experience.
What's the best way to use iYURA Kesaradi® Oil?
It's fairly simple to get the magic—it takes just 3 drops, morning and evening. But the most powerful way to use it is to combine it with another one of Ayurveda's best-kept beauty secrets, the Kansa Wand, for a relaxing and refreshing face massage.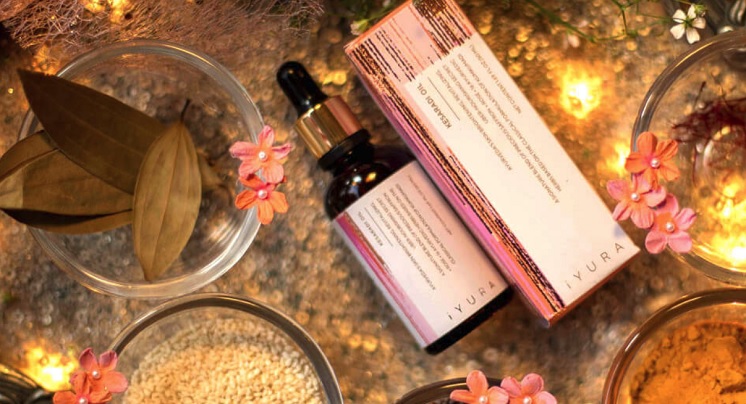 About 97% of iYURA Kesaradi® Oil users give it a four or five-star rating. Here are some of their stories:
"I have combination skin and have tried so many products that promise all kinds of things and been disappointed. However, I have finally found an amazing product that has helped my acne but improved my skin overall. Since I started using these face oils I have received so many compliments on my skin with comments like 'you are just glowing,' 'your skin looks amazing.' I have had such great success that I had my teenage son who had terrible, very red inflamed acne and his skin is entirely clear after a month. He thanks me daily for getting him to use it. These are truly amazing products and I highly recommend them to anyone. Thank you for making a traditional Ayurveda herbal formula that works, I love it." ~ Raven M, U.S.A.
"I have been using this oil twice a day for three weeks. I'm stunned that this oil alone has moisturized…and evened my skin tone more than any of the expensive creams and serums I have tried. I am very pleased." ~ Ann G, U.S.A
"This oil is amazing! I have tried many products over the years. Kesaradi oil is by far the best skincare product I have ever used. My skin has a thicker consistency and smoother appearance…The most amazing part is I have only been using Kesaradi oil for a few weeks. I'm sold!" ~ Jacquelyn O, U.S.A.
" The claims about Kerasadi are true. Since I have been using Kesaradi Oil I have noticed a marked improvement in my skin, which looks brighter and softer somehow. I have even had compliments—not just on the improved look of my skin—but on the great aroma of the oil. I will definitely keep using Kesaradi Oil, very happy with the results." ~ Jude K, Australia
About The Ayurveda Experience
The Ayurveda Experience is your one stop shop for all things Ayurveda: a place for you to meet your healthiest and happiest self.
Here, you not only get to access pure, premium Ayurvedic skin care and wellness products but also get exposed to Ayurvedic education from the best of Ayurvedic practitioners, doctors, and experts. iYURA is a premium Ayurveda brand brought to you by the Ayurveda Experience, that brings classical Ayurvedic formulations mentioned in the ancient Ayurvedic texts and validated by the Ayurvedic Formulary of India (AFI) to the modern beauty and wellness seeker.
All iYURA products are designed to meet contemporary needs but are pure, authentic and do not contain any parabens, mineral oil, preservatives, or any harmful chemicals. The generations that have actively handed down these ancient formulations over thousands of years are evidence of their effectiveness—iYURA brings them to you in the most beautiful form and the highest quality.
All Elephant Journal readers get Free Shipping and 10% off with coupon code: ELEPHANTKESARADI. We also offer a 100% satisfaction, 30-day money back guarantee.