This is a post is via Green Roads—Elephant's Mindful Partner. We're honored to work with Green Roads—they're dedicated to inspiring hope, restoring happiness, and providing an alternative to prescription drugs. We're in! ~ ed.
~
The CBD industry is growing like a weed, but can we trust all CBD products?

CBD is being hailed as a potential solution to the opioid crisis, and an effective natural alternative to prescription drugs for many other physical and mental health issues—from arthritis to PTSD.
In the largest CBD survey yet conducted, of nearly 2,500 participants, 4 out of 5 described CBD as "extremely effective" in managing their pain. Nearly half had successfully ceased their use of traditional pharmaceuticals to treat their conditions in favor of CBD-based medicines.
But one company is setting itself apart—and warning users to be wary when shopping CBD products.
Green Roads are driven by integrity and "mission over money." Their mission has personal roots—but their vision is big.
They are paving the way for a healthier, happier future for millions of Americans by producing the highest quality, pharmacist formulated CBD products on the market—a safe, effective alternative to prescription painkillers and other toxic prescription and over-the-counter drugs.
What exactly is CBD?
And what makes Green Roads different than all the others selling it?
CBD stands for Cannabidiol, which is one of dozens of non-psychoactive cannabinoids found in the hemp plant. THC is the only psychoactive cannabinoid.
Many other CBD branded products being sold at convenience stores and online have been discovered to contain THC and other impurities, regardless of advertising and labeling. But Green Roads products are manufactured from 100-percent- certified industrial hemp—not marijuana—and are in full compliance with the U.S. Farm Bill.
Green Roads is also able to isolate pure and potent CBD, and only CBD from the hemp plant—free of any THC molecules, contaminants, toxins, or any other foreign substance—using supercritical CO2 extraction.
This means that Green Roads CBD products are legal in all 50 states because they contain zero THC.
So pure CBD products like the ones Green Roads makes are absolutely are not going to get you high, but they are going to offer some other pretty life-changing benefits.
How does CBD actually help us?
CBD is a powerful natural remedy for various conditions: it can help with depression, anxiety, PTSD, inflammation, pain, and seizure management.
These broad-reaching benefits are due to the fact that CBD acts on our entire body's ability to maintain homeostasis, or a healthy state of balance within. This is because CBD, like THC, acts on our endocannabinoid system, ECS for short: a signaling system that allows our cells and organs to communicate with each other in order to balance overall activity and energy consumption.
Endo…what now?
Like all mammals, we have a natural receptor system that allows for cellular communication and regulation throughout the entire intelligent organism that is our body-mind. 
The ECS is made up of receptors throughout our body. There are two categories of receptors: CB1 (found in the brain and central nervous system of all mammals) and CB2 (primarily concentrated in the immune system of mammals).
CBD binds to these receptors in a way that causes your body to produce more of them, so basically speaking, the communication between cells can be strengthened and improved.
So much of the therapeutic effect of CBD is actually carried out by your own ECS; CBD simply promotes its normal function.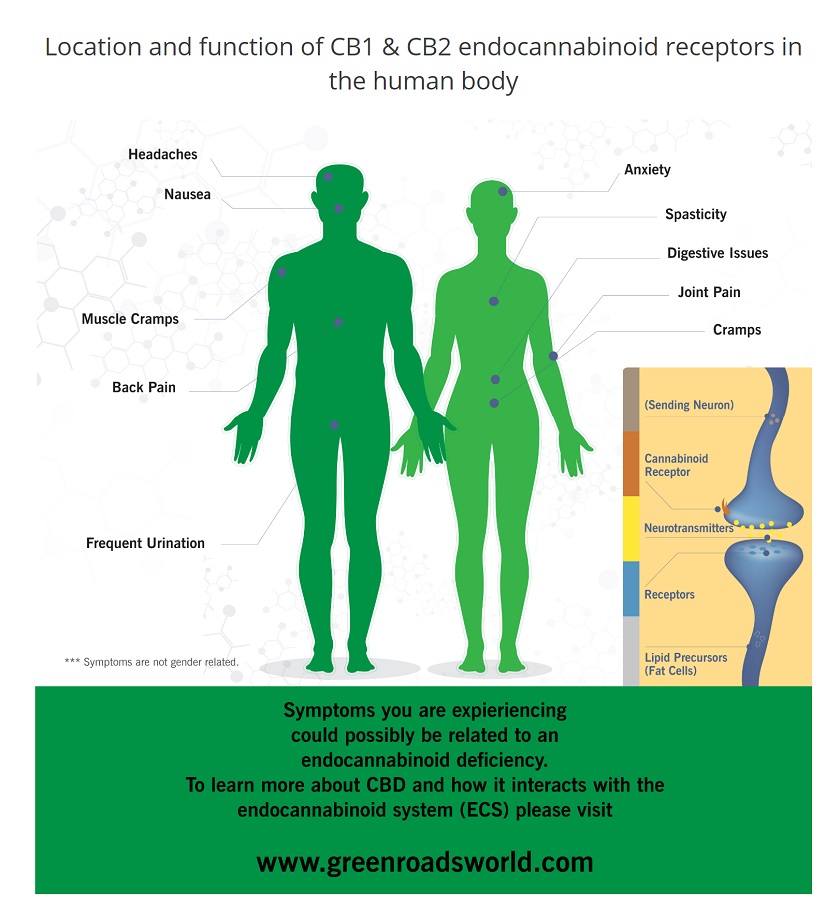 CBD as an Alternative to Opioids
Over the last 10 years in the United States, the epidemic of abuse and overdose of opioid painkillers and their illicit street-bound cousin, heroin, has been growing exponentially.
"We are 5% the population in the world, and yet we consume 80% of the opioids in the world."
~ Jim McMahon, two-time Superbowl champion & opioid survivor turned Green Roads CBD user
The life-threatening addiction to prescription painkillers prescribed to so many Americans daily by their own doctors has been officially recognized as a national crisis.
Painkillers are the most prescribed drug in the U.S. and since 2009, opioids have caused more deaths in this country than car accidents. But those living in pain, whether chronic or tempory, shouldn't have to accept addiction to painkillers as a side-effect of their healing or ongoing pain management.
Here's how CBD changed ex-football player, Jim McMahon's life:
Green Roads believe that many people of all ages can benefit from cannabidiol products.
They are dedicated to producing 100% safe products, so that even our children can use them. They even offer a natural and life-supporting alternative for our pets who suffer just as we do from pain and distress. 
As they grow, Green Roads is committed to the education of these natural alternatives, inspiring hope in people who might have lost their faith in traditional medicine, and restoring happiness and balance in the lives of their users.
Research is of course critical to the progression of CBD products and their efficacy. And Green Roads is consistently working on new formulations that will enhance the positive effects of their CBD products for their customers everywhere.  
CBD supports your ECS health, and your ESC health supports you.  When your ECS fails, CBD can help to bring things back into balance.
Relephant reads:
~
Editor: Khara-Jade Warren