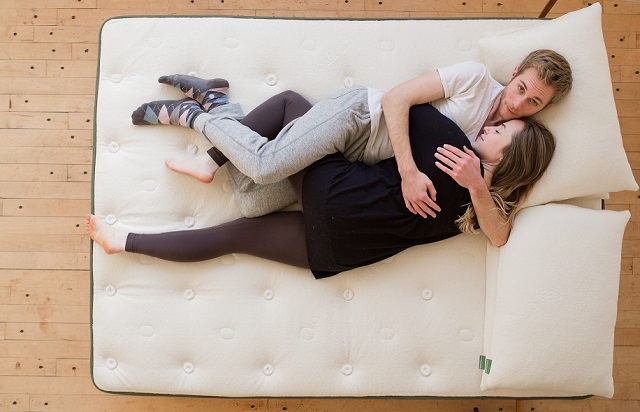 This is a post written in partnership with Avocado Green Mattress—they're dedicated to the health and well-being of the planet and those who live, and sleep, on it. We're honored to work with them to bring you an offering that's of genuine benefit to your life, should you be in the market for a new bed, or bedding. Should you not, enjoy the genuinely helpful information herein, and may it be of benefit! ~ ed.
Going vegan is going mainstream.
With a 600% increase in people identifying as vegans in the U.S in the last three years (1), it's predicted to be the biggest food trend of 2018 (2).
But going vegan isn't just about what's on your plate. It's a complete shift toward a more compassionate, eco-friendly lifestyle—from the clothes we wear, to the products we use on our bodies and in our homes. Animal-based ingredients are everywhere, but it's not something most of us give much thought to, until we make the shift and start to dig a little deeper.
Once we know better though, it's hard to ignore just how much everyday stuff contains animal based or toxic ingredients—often both. We all deserve to be able to make informed choices that are better for us and the planet.
It features 100% natural latex rubber, and certified organic cotton, supported by ergonomic pocketed coils made from recycled steel. It also contains absolutely no polyurethane foams or toxic fire retardants. It's exactly the same as their Green Mattress, except it uses cotton instead of wool.
*Sleep on it for up to 100 nights. If it's not right for you, Avocado Green Mattress will arrange to pick it up and give you a full refund. There are no restocking fees. Your purchase is risk-free.
"Avocado gives you 100 nights to figure out if their mattress is right for you. I made my decision in 5 seconds. Avocado's King Vegan Mattress with Pillow-Top is *the* most comfortable mattress my wife and I have ever slept on in our entire lives. We did not want to get out of bed the following morning! All of the aches and pains I would normally wake up with on prior mattresses were nonexistent with our Avocado mattress. They deserve all 5 stars from this review, and I would absolutely give them more if I could!" ~ Jordan C.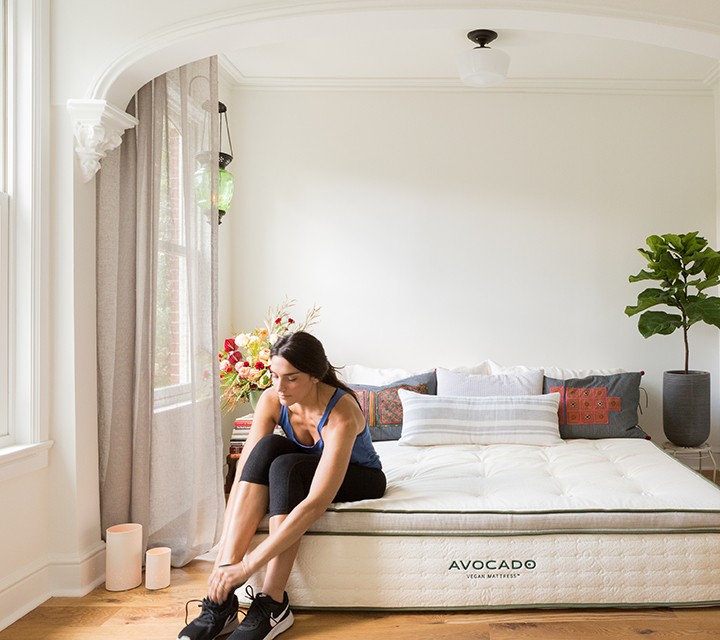 Avocado Green Mattress was started by a husband and wife who were looking for a truly green and natural yet affordable mattress for their son and came up short in their search. Instead of choices, they found dubious claims and companies masquerading as green. What was often being marketed as green, natural, and non-toxic was, in truth, hardly so. Read more about their journey here. 
Many of us (even if we haven't chosen to go vegan) have woken up to the fact that we all vote for change with our dollars.
The products and brands we surround ourselves with represent the values we support in purchasing them. We cannot hope to create truly peaceful, happy, healthy homes (after all, this is where global peace, happiness, and health starts) if we don't make conscious choices when it comes to the things we put in those homes.
Take just one room in the house for example: the bedroom. Our most sacred, intimate space isn't often as wholesome as we've been led to believe.
Yet, the bedroom is most likely to be the last room in the house we think of when it comes to going cruelty and toxin free. We're usually eating, cleaning, washing, and wearing vegan and/or eco long before we start to wonder what's hiding in the place where we spend a third of our lives: our beds.
But once we do turn our attention to what we're sleeping on and in, and start making compassionate, eco, and healthy choices, we can finally rest a whole lot easier (both literally and figuratively).
So here's what to consider next time you shop for a mattress—whether you're vegan or not…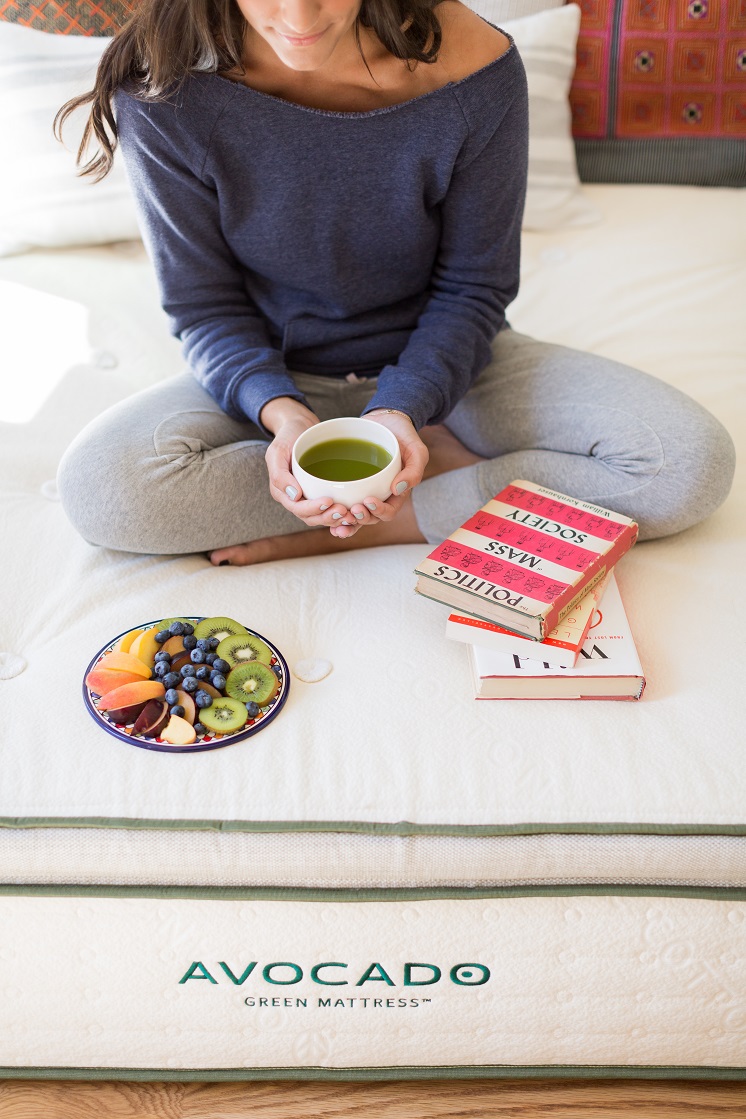 There are a lot of factors to balance when we make such a "highly considered" purchase: materials, quality, value, brand reputation, reviews, warranty, and so on. But far too often, the impact on our health and the health of the planet we rely on is an afterthought. As conscious consumers, this should be top of our agenda.
And for those of us opting for a vegan lifestyle, animal health and well-being is just as important.
Most mattresses are not only made with industrial-strength chemicals, containing toxins known to be dangerous to our health and the environment, but also incorporate animal-obtained ingredients like casein, wool, and silk—which, no matter how ethically harvested, are problematic for vegans. This is before we even start looking at the bedding itself, which if not synthetic, usually contains down feathers usually plucked from live geese.
But if we're truly eco shoppers (and any vegan should be…or you're not really vegan), it's not just as simple as cutting these things out.
You see, removing wool for example creates a problem because wool is a natural fire-retardant, so many vegan mattresses are made with additional chemical fire retardants in order to pass federal flammability and CPSC standards. These chemical fire retardants used by most mattress manufacturers are toxic, suspected to cause organ toxicity, hair loss, and other neurological damage.
So while you're may be avoiding animal harm, you're increasing harm to yourself and your family, as well as the environment.
That's why Avocado Mattress uses a special fire barrier protectant of natural hydrated silica in their Avocado Vegan Mattress. It protects both sides of your mattress and is made from the same compounds as the gemstone opal.
So, while you're sleeping on 400 grams of 100% organic cotton batting per square foot, all of which is sourced from Texas, you're not taking any fire risks either.
To complete your vegan bedroom, you can also shop their green pillows made with natural latex rubber (upcycled from the same latex that they use in their mattresses) and natural plant fiber from the Kapok tree, stuffed inside a luxurious, high-thread count organic cotton cover. They sleep cool, light and airy, with zero down feathers in sight. And they provide the support and resilience needed for all sleeping positions as they effortlessly contour to your neck and head.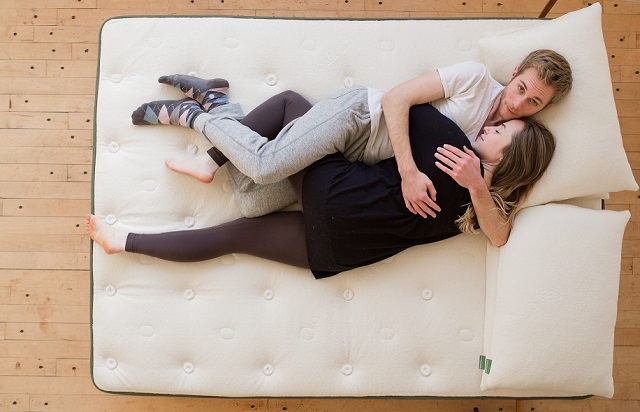 *Sleep on it for up to 100 nights. If it's not right for you, Avocado Green Mattress will arrange to pick it up and give you a full refund. There are no restocking fees. Your purchase is risk-free.
"Wow. WOW! I received my Avocado Mattress (vegan style!) right before surgery, and it made laying in bed for a few weeks so much better! It's unbelievably comfy, smells great (is that weird?), and my boyfriend literally calls it "the vortex" because you never want to leave it! We also recently adopted our second dog, and the first thing she did upon entering our home was jump on onto our bed, roll around, and curl up. She can't believe her luck 😉 Thank-you for making rest SO MUCH BETTER!" ~ Amandah P.
The original Avocado Green Mattress is still the best, most affordable option out there if you're living an eco (but not vegan) lifestyle.
This "magic sleep island" is GREENGUARD Gold Certified and handmade, fresh on demand in Los Angeles with natural and organic materials, including:
>> eco-INSTITUT certified, 100% natural latex from tree-tapped and sustainable sources
>> OEKO-TEX Standard 100 certified Joma® natural New Zealand Wool carefully shorn from crossbred sheep which freely roam amongst expansive farmlands belonging to farmers who abide by strict rules and regulations around animal welfare
>> GOTS certified organic cotton, one of the softest, most breathable and most comfortable fabrics available
>> up to 1,414 fabric-encased innersprings made from recycled steel, with varying, zoned support for proper shoulder, hip, and back support and extended durability.
Every Avocado mattress has a 25-year warranty, comes compressed in a plain, unbranded, recyclable box, and includes free, carbon-neutral shipping, and as well as free return pickups.
Here's what's not included:
>> no petroleum-based polyurethane foams
>> no toxic flame retardants
>> no chemical adhesives
>> no industrial chemicals used in any part of the product or manufacturing process.
It's about as natural, non-toxic, and eco-friendly as it gets. And it's outstandingly affordable compared to other eco brands, with prices starting at just $959.
Avocado Green Mattress are also members of 1% for the Planet, which means they donate 1% of all revenues to environmental nonprofits.
*Sleep on it for up to 100 nights. If it's not right for you, Avocado Green Mattress will arrange to pick it up and give you a full refund. There are no restocking fees. Your purchase is risk-free.
"I love my Avocado mattress! Not only is it the most comfortable mattress I have ever slept on, it is also the most natural. It has zero odor, and is so beautifully crafted, like no mattress I have ever seen. The materials are so soft and cozy, you almost don't even need a sheet! It's so nice to have a mattress that doesn't smell like chemicals and is not made of harmful materials. This is truly a beautifully made, wonderfully comfortable mattress. I will say that it is pretty firm, so if you don't like a firm mattress, definitely opt for the pillow top option." ~ Donna L. 
Sources: