You know that feeling you get when you're way too present and connected to other people for your own good?
Yeah, that one.
Self-awareness and meaningful connection are undeniable symptoms of the most recent epidemic affecting millennials. This might be the most "woke" generation we've seen in our lifetime.
It's unsustainable, and it's about time we learn how to cope with that reality.
Today, after months of sleepless nights and a metric ton of full-sodium instant ramen, it is my pleasure to bring you FOMO—a new app destined to be the next social media unicorn.
To be honest, after five years of operating MeetMindful, the mindful dating app, we have grown very concerned that our contribution to the mindfulness epidemic might be irreversible. So, our team thought long and hard about what our next move would be.
We realized that if we don't do something now, people will begin making more eye contact (and maybe even start actually listening) rather than tapping their touchscreens. And…well…that would be awkward.
Folks, this is a billion dollar problem just waiting to be solved. And we finally figured it out!
Introducing, FOMO.
Admit it, you're a voyeur and you know it. Living the #FOMOlife ain't easy, but with the FOMO app, now it can be!
Scroll through all the contrived crap people post about their "perfect lives," get addicted to your screen with never-ending, useless notifications, and hop up on that soapbox to broadcast your lame cat photos into the social media black hole. Most importantly, expect validation from everyone and never feel fulfilled, ever.
This is the app that is bound to stop mindfulness in its tracks, so you never have to suffer from another deep, meaningful conversation again.
Our beta testers are loving FOMO:
"Thank God an app like this exists. It's real social media that tells it like it is. I can't wait to put all of my political opinions out into the universe, so that people can see them, not read them, and not give a crap." ~ Apple, 18
"The FOMO app is dope. It's like everyone's finsta magically fused together in 1 feed and it's comic gold." ~ Chad, 28
"I'm so glad this app gives me quite literally endless notifications. My FOMO will never be satiated!" ~ Moonstar, 32
"It's so nice to see people posting what they're really thinking for once. Like, I know you bought that #whole30 salmon dinner from Whole Foods, just admit it. Props to FOMO." ~ Juno, 24
"I LOVE seeing everybody's 47th attempt at the 'great bathroom lighting' selfie. That filtering & face-tuning really make me feel like sh*t." ~ Khaleesi, 34
"Ya know, the FOMO app is super humbling. All my friends working consulting are making way too much money not to stay in a 5-star hotel in Barcelona this week. Maybe one day I'll be like them…" ~ Karma, 29
FOMO is a much-needed, constant reminder that everyone you know is doing epic sh*t—without you.
After all, you can only measure your friendships (and yourself) based on the rate at which the people you kinda know validate your most recent post on social media. Wouldn't it be nice if your followers could do more than "like" your photos? With FOMO, you'll know whether your followers are impressed, jealous, validating, or simply don't care (so you can dump them).
Let's be real: the true sign of connection is when you watch their Instagram story in its 12-minute entirety, know exactly what they're doing for #TacoTuesday, and never acknowledge that you saw it, ask them how the tacos were, or invite them to join you for your own #TacoTuesday IRL.
FOMO is our future, so treat yo' self and download it now. Being the first on FOMO and telling everyone else about it clearly makes your life is so much better than theirs. Feels so good right?
Available for download today in the App Store and Google Play Store.
Last week, FOMO closed $18 million in seed funding.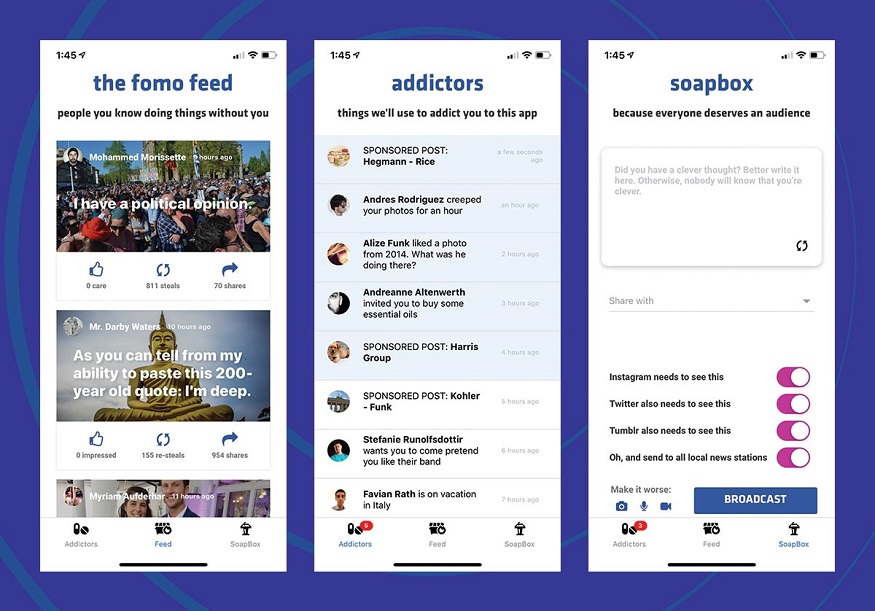 ~