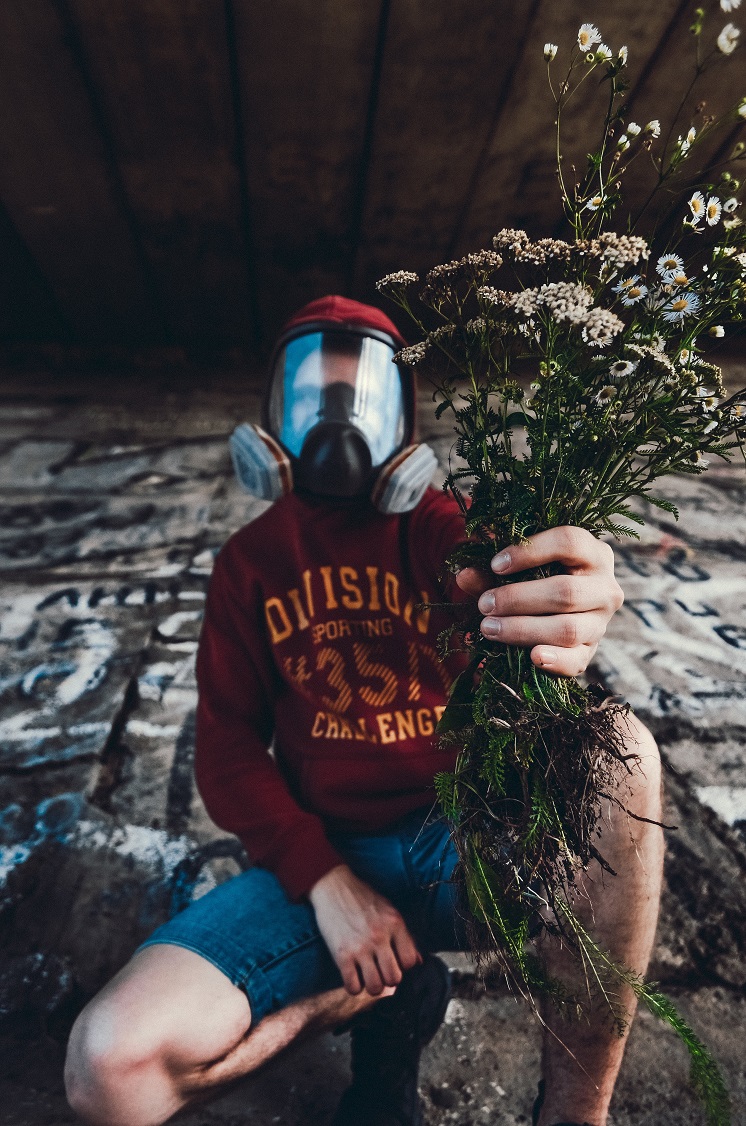 "Our health and the health of our planet are connected. We are all on this spaceship together." ~ Gisele Bündchen
This article is written in partnership with RE Botanicals™—they're dedicated to utilizing hemp to regenerate our bodies and the earth, and we're all for that. ~ ed.
We've got some big health choices to make, and we have to make them fast.
What we do in the next few years will not only impact generations to come, but decide whether there will even be generations to come.
And this is not just an environmental issue. This is personal. Our own well-being is directly connected to the health of the soil, the air, the water.
Nowhere is the connection more evidently manifested than in the burgeoning CBD industry. Hemp, a prolific bioaccumulator (known to suck up everything in the soil and air around it) is being planted and grown widely in soil that was previously conventional agricultural land, and therefore soaked with synthetic pesticides such as Glyphosate, the active ingredient in RoundUp and a known carcinogen.
CBD products from hemp are being sold widely as a natural panacea to those hoping to heal their pain, anxiety, and other imbalances—medicine which includes all the toxins absorbed from such an unhealthy growing environment.
We need to get back to the roots of this plant and show it a little more respect. We can either continue down this destructive commercial highway toward our own demise, or we can forge a new path of respect and regeneration. 
We are at a crossroads in our relationship to hemp.
We can either harness it to regenerate our health, our communities, and our environment—or we can exploit it as the next slave to commercial bottom lines. As consumers, we have power over which direction this industry will take, if we inform ourselves and make conscious decisions about what we buy. 
RE Botanicals is on a mission to educate hemp CBD consumers about just what kind of future we're voting for when we buy from a particular brand. 
As the first national brand selling U.S.-grown hemp to be awarded USDA organic certification, they want to make us aware of the pervasive lack of understanding and even negligence that persists in the industry, so we can make informed choices about what we want our dollars supporting.

UPDATE: A report was just released from the Center for Food Safety that tested 40 top CBD brands and gave them ratings based on a full set of testing criteria. RE Botanicals were one of only four brands to get an A in these ratings. Check out the full results here.
The Pure Organic Hemp Apothecary™ 1. Highest Quality USDA Certified Organic Hemp Products
1/3
Enter your email below to get a promo code for 10% off your first order delivered to your inbox and keep up to date with RE Botanicals.
Get 10% off your first order
In the next decade, sales of hemp CBD are expected to rival those of vitamins.
Hemp CBD is experiencing a renewed "day in the sun," but in a Wild West-style market, many hemp brands are making an abundance of unverified purity and health claims. In a rush for corporate profits, the hemp industry runs the risk of morphing into a remade version of the old model—call it Corn 2.0., since it comes with all the toxic trimmings of industrial agriculture.
Hemp is like a sponge absorbing pesticides, chemicals, and toxins from the soil faster than it uses or releases them. When extractions are made from non-organic hemp, those same toxins or pesticides are extracted, too, and become part and parcel of your CBD products.
Beyond soil health, fertilizers are a major contributor to climate change, and runoff following storms is the leading cause of ocean dead zones in the Gulf of Mexico, for example. So we're not only harming our bodies when we take hemp-based products grown in this way, we're harming the planet.
Hemp has the power to heal and create hope for our future, but we have to "approach it right" as Activist and Hemp Farmer, Winona LaDuke points out.
"We will get nowhere if we continue with the same aggressive industrial behaviour. I feel like a lot of individuals are taking the paradigm and the practices of industrial agriculture into this economy, with the same value set and just trying to figure out how to make a buck on a plant. 
A plant is not a slave. And if we treat this plant with respect this plant will help us change our world. If we treat this plant like they have in the last industrial economy, in the last round of industrial agriculture, it won't help us." ~ Winona LaDuke
Regenerating with Hemp
Regeneration is a principle that applies to more than just agriculture. It applies to everyday life. Regeneration is a paradigm shift, a complete change in the way we view our reality—away from a top-down, pyramid-based economy and toward a more circular, co-operative model.
This booming industry gives us a golden opportunity to pivot to more eco-friendly and climate-beneficial farming practices, shifting our focus toward the real state of soil health and away from the vague corporate doublespeak of "responsible farming" and "sustainable methods." RE Botanicals is one of a few companies on this leading edge.
A major difference in how regeneratively farmed hemp is grown is the use of renewable cover crops like clover or alfalfa to provide the nitrogen needed to sustain growth, rather than commercial fertilizer. Then there's extraction method: a variety of which are currently used, few of which are actually safe and truly healthy. 
While alcohol extraction is the original method used by traditional hemp apothecaries, RE Botanicals put a modern, eco spin on the traditional by using USDA certified organic cane. They then blend their hemp extract with the gold standard in carrier oils, organic MCT oil, made from young, organic coconuts. This helps to enhance our bodies' absorption of CBD. No other additives, GMO, or artificial ingredients are used.
Many non-organic brands use hexane or other solvents for processing such as corn ethanol, which is typically a GMO crop, produced using pesticides or herbicides such as Gylphosate, the cancer-causing active ingredient in Round Up. Which goes some way to explaining why Glyphosate-free certification is something the majority of the hemp industry seems to be ignoring.
A Side of Cancer with your CBD?
German chemical company Bayer AG, owner of Monsanto, and maker of Roundup faces more than 13,000 cases alleging that glyphosate causes cancer. So far, juries agree that the company failed to warn users of the herbicide's cancer risk.
RE Botanicals takes the health and safety of their products seriously, which is why they have received Glyphosate Residue Free certification from the Detox Project, ensuring their products are free from this toxic, yet frequently used chemical herbicide.
"Glyphosate is the most common herbicide—approximately 250 million pounds are sprayed on crops in the U.S. annually and 1.65 billion pounds globally. If you are using hemp CBD, you'll want to make sure it does not have a cancer-causing weed killer in it. CBD consumers need to be discriminating about what they are buying. Products that are both USDA certified organic and Glyphosate Residue Free are the best of the best." ~ Max Goldberg, founder and publisher of Organic Insider and Living Maxwell
If you're not using USDA certified organic and Glyphosate-free products, then there's a high chance you're consuming glyphosate, among other toxic residues and heavy metals. Third-party verified certifications are the only way to ensure that a product is what it says it is. 
Choose a Healthy Future
The easiest way to vote on the future is with your dollars. When shopping for CBD products, choose a brand that's committed to environmental ethics, worker health and safety, giving back to the community, and to your health.
In buying RE Botanicals, you're also directly supporting regenerative agriculture. One percent of their sales are donated to educate farmers about regenerative agriculture practices so they can create healthier soils and a healthier you!
The choice is yours, make it wisely: