Don't let the Twitter Cycle of Chaos and Distraction roll you. We don't get to go back to ignoring Racism while Shopping online, like this Lady:
Don't be like Connie. Be like Gary:
"Activist goes NEXTF&CKINGLEVEL, destroys school board member that defended Robert E Lee and then went online shopping during hearing about racism."
In case you missed, it, the most inspiring video I saw last week.
Beautiful comment on the above video: "I'm 55. White privilege. Gramps was plant manager and eventually head of engineering for the Fisher Brothers so everything and everyone was below us…. .. Married a Virgina boy who attended R. E. Lee high school in Vienna,Va. Had a fun North vs South themed pre- wedding party ( was still a boy when I divorced him 15 years later)
I began my journey 8 years ago, shedding the person I was raised to be and am becoming the person I should have been my whole life. This video really hit home.
I was born and raised in Detroit."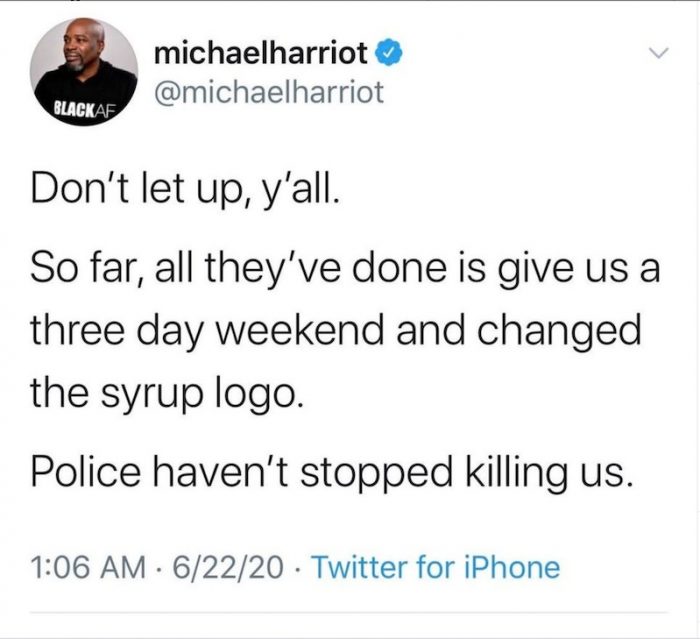 "All they've done?⁠
⁠
Tons of cities across the country are either in the process of or are examining the potential for large scale police reform. The senate is having a meeting to discuss federal police reform. Minneapolis is potentially disbanding its entire police department, LA and NYC are diverting funds from the police to other programs, NYC ended plains clothes cop programs, Houston is forming a council to discuss police reform, etc etc⁠
⁠
Literally google (ecosia, or Duck Duck Go, are better than Google ~ ed.) any city, and add 'police reform' at the end, and chances are you will find changes happening.⁠
⁠
Seriously, there is so, so much reform happening right now in regards to the police in so many cities and states. The protests have worked, and they are working, and they will continue to work."⁠
⁠
~⁠
To help keep Elephant alive and working and playing for you and millions of others outside of your choir, please click here.
⁠
If you subscribe already, please comment!⁠
⁠
Share your story beyond your choir.
We are not fair-weather fans to the cause of fair labor, equal rights, equity, anti-racism, environmental racism. We are honored to elevate voices of color, now and always—from our founding in 2002, equity has been one of our 12 areas of focus: yoga | organics | green | active citizenship | enlightened education | conscious consumerism | equal rights | relationship & loneliness | animals | the contemplative arts | non-new agey spirituality | right livelihood ⁠
For my video with anti-racism educator Jane Elliott, here.
⁠
May it be of benefit!