My new book is coming out. Here's an excerpt.
When you feel lonely—instead of envying others or looking for pleasure outside of oneself—know that your broken heart is in and of itself your fundamentally good, already-awakened human nature.
You have only to learn to rest in the present moment, free of self-concern, and learn to make friends with all of yourself. "The only way out is through," as is said.
To make friends with yourself is to question that which you are most proud of, and befriend that which you are most uncomfortable with. It's like any healthy respectful friendship, only deeper & more unconditional.
We have a choice: avoid our reality, or relax into now, with a sigh, as if sinking into a slightly-too-hot bath.
Maitri is the path of making friends with our whole self—the parts we like (and over-exploit, get arrogant about), and the parts we don't like (and suppress or hide). ⁠
We can allll make friends with our "Before" photos.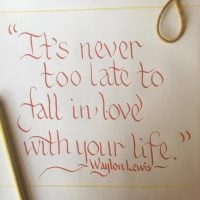 The above is an excerpt from Waylon H. Lewis' forthcoming book, It's Never too Late to Fall in Love with Your Life: Practical Buddhist advice for Everyday Life. It's 108 quotes, with commentary. Pre-order it here and save $5.
His first book, the best-selling Things I would like to do with You, is also available at that link.