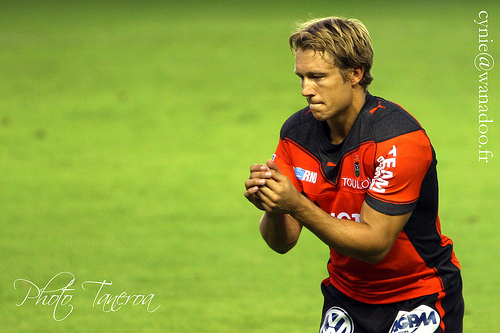 "The so-called Middle Way is about seeing everything as interconnected—success and failure, victory and defeat." ~ Jonny Wilkinson
These are the words of a rugby player. 
These are not the words of a Brahmin, Lamaist monk, or swami. 
Jonny Wilkinson is one of the most decorated and dedicated rugby union players in the game's history. He was the second-youngest player to ever start for the England International Men's Team.
In the 2003 Rugby World Cup final, Jonny Wilkinson scored the winning drop goal in the dying moments of extra time and clinched the trophy for the English team. He became the all-time leading points scorer in international tests in 2008. Jonny Wilkinson also studies Buddhism and Quantum Physics.
The more we listen to what he has to say about training in rugby and life, the more aligned with his innate potential as a human being he appears to be.
Here are

Wilkinson

's

six rules about playing rugby, which apply equally well to the game of living skillfully in this cosmos:

Rule 1: Embrace Failure

In a competitive sport, failure is inevitable. There must be one winner and one loser, but how we understand victory is the true key. 

"Failing at something is one thing," says Wilkinson, "but Buddhism tells us that it is up to us how we interpret that failure. 

"You definitely learn more from a defeat than a victory. A defeat challenges you in many more ways and it helps you to go much more into the internal, to search for answers about yourself." ~ Wilkinson, Esquire

Rile 2: Set the right intention

Winning is all about the right kind of intention. 

"'I don't want to lose' is not the same sort of thought as 'I want to win.' The message that this focus emits is totally different. The first is almost a plea for mercy, which gives away any power you have as you cry out to be spared by chance. 

The latter is an eminently stronger, more proactive intention which forces you to look inside and uncover the innate strength we all possess for making things happen." ~ Wilkinson, Philosophy for Life

In the present moment, our intention dictates our future karma. Our past intentions affect the quality of the present moment. Even though it isn't listed in the official rulebook, playing rugby is still bound by the rule of karma.

Rule 3: Develop a practice

Jonny Wilkinson was relentless in his training—his practice. On some winter evenings, he would be out on the field taking kicks until well after sunset. He couldn't even see the balls anymore. He would just sense whether they had gone through the posts. 

In his own words:

"Each week leading up to the big day, I hit about 250 to 300 practice place kicks alone. I average 200 to 250 punts using my left foot and exactly the same number using my right. A daily total of 20 dropped goals with each foot and 15 to 20 restarts, six to seven times a week, would pretty much constitute a solid preparational build-up. That makes a total of about 1,000 kicks to prepare for just 20. That's near enough 50 rehearsals for each single defining event. To me, that has been a totally acceptable ratio." 

As in anything—sports, salmon fishing, or the spiritual journey—a solid practice makes perfect.

Rule 3: Be present

Wilkinson is famous for conducting his own research into theoretical physics and the quantum realm as he was playing rugby professionally. The idea of quantum entanglement influenced him both in the game and in life. When he read about the "Schrödinger's Cat" experiment, it shifted his understanding of how to be present when playing a rugby match and how to produce positive change in life in general. 

"It was all about the idea that an observer can change the world just by looking at something," Wilkinson remembers. 

"The idea that mind and reality are somehow interconnected. It is difficult to put into words, but it hit me like a steam train. I came to understand that I had been living a life in which I barely featured."

Rule 4: Stop worrying

Wilkinson admitted in the twilight years of his playing career, "If I hadn't worried so much, I would have made more of my time. And if I'd done that, I would have enjoyed life to a far greater extent, and I might even have got to more or less where I wanted to be a lot quicker." 

Rather than worrying, nowadays, he allows compassion and instinct to rule his heart and mind.

Rule 5: Close the gap between imagination and reality

Wilkinson recalls:

"Practicing flawlessly in the mind without even venturing anywhere near a field can actually improve my physical skills and begin to close the gap between imagination and reality. With my thoughts and imagination, I am drawing the experience toward myself. With great actions, I can finally receive it."


Here, Wilkinson is talking about the power of manifestation, whereby we can positively affect our future downstream conditions. And he offers some tricks for how to draw the experience we wish to manifest toward ourselves: 

"You've got to be specific about what it is that you want to achieve. For me, the whole process of achieving the big result has been about filtering back to the very start, identifying the two or three things that you can control to the best of your ability and improving your work around them."

Rule 6: Paint your own life

Jonny Wilkinson has offered his own view of living a good life. "It is a bit like creating a painting," he explains. 

"How we physically influence the outcome and mentally perceive what happens in front of our eyes determines the kind of picture of life that we will paint. Without our perceptions, there is no real world out there.

Our interpretations of what we see, taste, hear, touch, and smell give us our attitudes, our limits, our successes, and our failures. They give us the memories of our pasts and dreams of our futures. These and all the emotions which go hand in hand with them become the colours from which we can choose when we want to begin the painting process.

Our actions, which are driven by our feelings, offer us the opportunity to live; they let us go out and leave a mark, they put the brush in our hands. Actions cause things to happen, and from those outcomes, we learn, we improve, and we find the best path for an amazing existence. We make our own masterpiece. And it all starts from a blank canvas."

According to Buddhists, we have the power to alter our reality. Buddha, in his awakening, realized this in the idea of the Middle Way. The Middle Way leads to nirvana, awakening, liberation, the snuffing out of the ego, and the end of a person's suffering.

A person following the Middle Way does not believe in the two illusory ideas that nothing exists at all, so we are powerless, and everything exists exactly as it is, so there is nothing that can be changed. The Middle Way unveils life as a dynamic process, an interaction, a journey in which we are entangled, a dimension in which we have the power to decide how our realities manifest.

"What we focus our minds on is more often than not what we end up with—well, pretty much what we end up with," contemplates Wilkinson. 

"In my head, I can hit the ideal kick over and over again. In real life, I probably can't, but I reckon with the right preparation, understanding, and conditions, like the ones in my mind, I could get damn close."

In the World Cup final, Jonny Wilkinson kicked the winning drop goal off his weaker right foot. In the end, damn close to perfection is good enough.