Confidence isn't the same thing as arrogance. Humbleness isn't the same thing as insecurity.
My new book is coming out. Here's an excerpt.
Instead of criticizing ourselves for not fitting in, we can practice letting go of any shame about being weird or loud or dorky, and just be.
Here's how: next time you feel like you oughta be smaller, safer, less shiny…take a deep breath, and assume a good posture. Speak up, instead of quieting down.
Here's why: being small and quiet doesn't help anyone. Being you, unconditionally, is the only way to go. It's really our only choice.
At the same time, if you're okay with you, you needn't shout about yourself, or puff yourself up. You can afford to listen, to change your mind, to be honest with yourself.
Don't be afraid to be unapologetically you. Relax, smile, open up. Repeat.
[Excerpt from Waylon Lewis' 2nd book, It's Never too Late to Fall in Love with Your Life]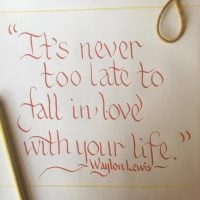 The above is an excerpt from Waylon H. Lewis' forthcoming book, It's Never too Late to Fall in Love with Your Life: Practical Buddhist advice for Everyday Life. It's 108 quotes, with commentary. Pre-order it here and save $5.