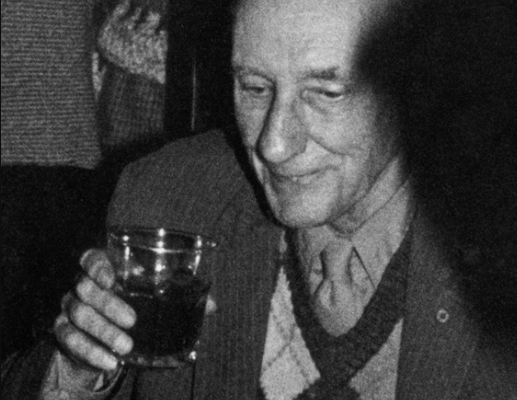 *Warning! Some naughty language.
~
Every cool kid on my block had five or six things in common.
We all smoked Marlboros, we all had leather jackets, we all skipped school to play handball, we were all drinking well before it was legal, and we all had a copy of the Jim Morrison autobiography, No One Here Gets Out Alive.
As a matter of fact, I credit that work of pop literature with being the first book many of my friends actually read cover to cover. Its importance can not be exaggerated.
That book was where many of us first heard about Allen Ginsberg, Jack Kerouac, and William Burroughs. I was intrigued. I borrowed all of their work from the high school library, but it wasn't until Burroughs' "Dead City Radio" came out on L.P. and cassette (that's right, it was that long ago) that I really understood the genius of his writing in a meaningful way.
It has always been the case with me that things typically hit a little harder auditorily than on the page. Pieces like "Kill the Badger!" and "After Dinner Conversation" allowed me to understand the genius of Burroughs in a more profound way. These are all available to check out on YouTube or Spotify.
This is his birthday week, so it felt right to celebrate the man with 10 of my favorite quotes:
1. Never do business with a religious son-of-a-bitch. His word ain't worth a shit—not with the Good Lord telling him how to fuck you on the deal.
2. Artists to my mind are the real architects of change, and not the political legislators who implement change after the fact.
3. Knowing you might not make it…in that knowledge, courage is born.
4. There couldn't be a society of people who didn't dream. They'd be dead in two weeks.
5. A cat's rage is beautiful, burning with pure cat flame, all its hair standing up and crackling blue sparks, eyes blazing and sputtering.
6. Whether you like it or not, you are committed to the human endeavor. I cannot ally myself with such a purely negative goal as avoidance of suffering. Suffering is a chance you take by the fact of being alive.
7. In homosexual sex you know exactly what the other person is feeling, so you are identifying with the other person completely. In heterosexual sex you have no idea what the other person is feeling.
8. Cheat your landlord if you can—and must—but do not try to shortchange the Muse.
9. Happiness is a byproduct of function, purpose, and conflict; those who seek happiness for itself seek victory without war.
10. If, after spending time with a person, you feel as though you've lost a quart of plasma, avoid that person in the future.
~