By no means am I an expert on eczema.
I'm just one of the unlucky ones who suffer from it.
As a child, I used to get eczema on the back of my knees and on the inside of my elbows. I have distant memories of going to the seaside with my family and being in agony while paddling in the sea. My mum and dad told me that seawater had some sort of magic healing properties that I wished and hoped would be my magic cure.
If only it was that easy.
I'd be standing there in excruciating pain hoping it would help me, and every single time all it did was sting and itch like crazy when I got out.
Not quite the magic I'd hoped for.
As I grew up, my eczema disappeared. It became some kind of distant memory with the occasional bit on my inner elbows.
It wasn't until I turned 18 that it made its unwelcome return. Almost six years later, I'm still not that much closer to finding this magic cure everyone always talks about, but I'm slowly learning to accept it and manage it better.
To give an idea of some of the bad times, here are a few pictures I never imagined I would share—but now, when I have a flare-up, it does make me feel extremely lucky that it hasn't been this bad since.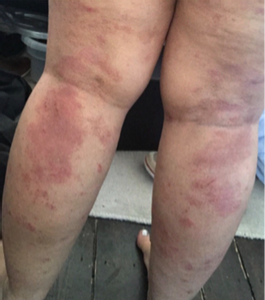 Here's the back of my legs in summer 2018. I have never been overly confident about having my legs out in the summer, but I remember spending days where it was hot in jeans, leggings, or long trousers—as long as my legs were covered I didn't care.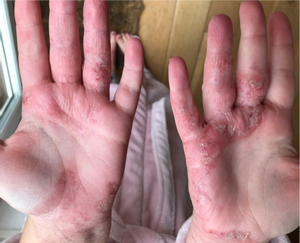 My hands are probably the part of my body I struggle with the most. Obviously, we use them for just about everything. Particularly when I was working as a support worker I had countless issues with them.
Eczema is something I am coming to terms with as a part of me, however, I am no longer going to let it control me.
There are so many ways in which I've found it can impact me, not just limited to physical restrictions. I could sit here all day and list the different things I can't do or use because it may have a negative impact. For example, I can't wear certain materials like woolly jumpers because they irritate it. I can't use many types of shampoo, conditioner, shower gel, moisturizers, washing powders, and deodorants that most people can because my skin reacts.
But I no longer want to spend my time focusing on what I can't do or use.
Eczema has helped me to begin to understand my own body and what I need to do to keep it healthy.
As much as scented products are lovely to look at and to smell, natural ones are so much better for our bodies and skin. I have learned how eating different foods can affect my body and my skin, and I have learned so much about myself and how to manage my physical and mental health.
Here are seven ways to Manage Eczema and still thrive.
1. Looser-fitting clothing is the best thing to wear, especially in summer.
2. Stick to the same products when you find what works—shampoo and conditioner, moisturizer.
3.  After showering, make sure you put moisturizer all over your body as soon as possible to allow it to sink into your skin better.
4. Cotton gloves are great to wear on your hands to stop you itching, especially at nighttime!
5. Learn how your body responds to foods (this includes both eating and touching foods) and use this to determine your diet. It can be trial and error but a good place to start is eliminating specific foods one at a time for a week or two to see if this makes a difference. Start with eggs, dairy, or citrus fruits as these are a common issue. Again, I am no expert but this is what I was advised to do and it helped me.
6. Stress is a large factor when it comes to eczema flaring up; try to find ways to manage your stress and the results should help.
7. Patience is key! I've been trying to manage my eczema for six-plus years now and I'm still not fully there yet, even with help from dermatology specialists. Yet, difficult roads often lead to beautiful destinations.