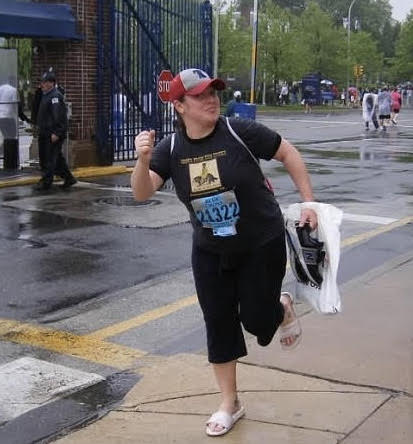 I stand at the starting line with a knot in the pit of my stomach.
The slightly chilly breeze reminds me that although the calendar marks spring, spring has yet to bloom.
I scrunch down to double knot the laces of my dirt-stained white Adidas. The noise of the crowds distracts me enough not to think of anything but standing there, waiting for the horn to blow.
I turn to my friend who is standing to my left with her tall slender figure and long blonde hair, pulled back into a ponytail. My lips curl upward. She reaches for my hand with a strong squeeze while speaking, "She is watching you. She is proud of you."
My eyes begin to sting as thoughts of my beautiful sister enter into my mind.
Her long brown curly hair, her loud personality, her sweet smile, and her loving attitude.
I wipe the tears, nod, and turn my focus back to the race.
The racers move forward every 15 minutes as each group begins their run. We are located in the middle of around 50,000 racers.
Our start time gets closer with each minute that passes.
Our group, the 10-mile run, is next to start the race. It's a run I've never run before. Actually, I've never run any race, but I've been to this race before, at the finish line, waiting for her.
My sweet sister. She was seven years younger than me. She was the rock that held my family together. She was the youngest of four, yet she was the leader of us all.
She left us in her sleep—her heart slowed down and stopped working. She was just 36 years old.
It was this race that she had run for the past 10 years. She ran this race in honor of our brother, who had passed away on the day of her very first race. She had dedicated all future races to him. For years, she had pleaded with me to run this race with her. I declined every single time with my "I'm not a runner," or "Maybe next year" excuse. But it never stopped her from asking me to run with her.
My stomach does flip-flops which makes my head turn behind me to see which way I should make my escape.
I can't run. I can't run. I need to get out of here.
"Hey," My friend places her hand on my shoulder which forces me to face her. "I can't do this," I whisper.
"I'm with you every step of the way. You've got this."
A quick boost of confidence changes my mind. "Yes, yes. I got this," I speak loud and clear.
We make our way to the bright white line marked on the blacktop. I feel the pressure of bodies slightly pushing against my back. Katie Perry's "Fireworks" plays over the speakers to hype up the runners as we wait to begin.
A voice interrupts the music to announce the two-minute warning. A huge rush of anxiety kicks in and doubt invades my core. My thoughts go back to my sister. I feel the tears building up again. I see her beautiful face.
I wish she was here with me—she should be here with me.
The horn blows and my feet step over the starting line. Here we go, one mile at a time.
Mile one, two, and three are gone in a blink of an eye. I already ran three miles. Holy sh*t! I'm actually doing it.
Mile four, five, and six move along a bit slower. I refuse to turn around as I suspect I'll be the last person to cross the finish line. Goal number one is to finish, goal number two is not to be the last person to cross the finish line.
Mile seven, eight, and nine begin to hurt. My legs are on fire, my calves are splitting in two. Even my hair hurts.
Sweat drips down my face as I hear bystanders yelling words of encouragement. Why am I not there yet?
I feel proud that I'm actually doing this. I can't believe I'm almost done. I'm amazed I haven't dropped to the ground by this point.
Visions of my sister cross my mind with each heavy pound of my feet against the ground. Thoughts of her give me the strength to keep moving.
Each second brings me closer to that finish line—the finish line I never thought I'd ever have to face, and a race I never thought I'd have to run.
Ten more steps and I'm there. The excitement builds within me and I'm overtaken by a feeling of happiness as I run toward the finish line.
I do a quick turn to see if I'm the last runner. To my surprise, there are hundreds of people still behind me—people yelling and screaming their "congratulations," and "great job," which ring through my ears.
I slow my run to a jog to the finishers' table to collect my shiny gold medal in the shape of the city of Philadelphia, with the Liberty Bell and William Penn's image imprinted, front and center.
The feeling of accomplishment sends waves of excitement through my veins. As my feet finally stop for the first time in an hour and a half, I can't stop my mind from thinking about my sister. I never understood why she loved running so much, but I now understand from every fiber of my being.
It's exhilarating. I almost feel slightly high from the rush of emotions inside me. I f*cking love this feeling of being on top of the world, but I would give it back in a second if I could have her back, even for a minute, to tell her I'm sorry for not running with her, instead of for her.
Life is way too short. You never know when someone will be taken away from you. Cherish every minute you have together—don't wait like I did. Run with your loved ones, not for them.
I run for you, my dear sweet sister. I love and miss you every second of every day.
I will never stop running for you.