Stomach problems, anxiety, and jitters—why we're switching to a coffee that has five times less acidity.
For a buzz that's smooth as a Saturday with enough kick for a Monday, Golden Ratio's tea-like brew is sourced from three ethically-run single-origin bean producers, uses only clean ingredients, and doesn't stain your teeth.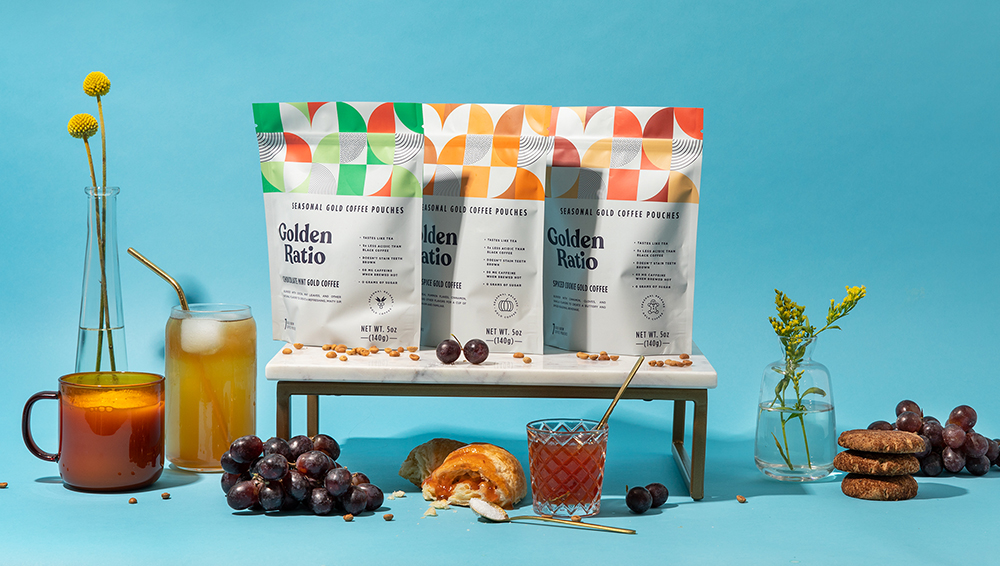 Free of stomach burns and bitterness, this vegan, clean ingredient coffee uses an ultra-light roasting process to extract the harmonious flavors for a steady, de-stressed boost of energy. With less need to sweeten or add cream, your morning joe reads less like a shock of acidity and more like a mug of strong tea. And no, a lighter roast does not mean less caffeine!
Golden Ratio can be brewed hot or cold, anytime, anywhere, as it comes in individual pouches with amazing flavors like vanilla coconut, chai spiced, original gold, or their new holiday flavors—pumpkin spice, chocolate mint, and spiced cookie.
Until December 10th, Golden Ratio is offering Elephant Journal readers a special deal for first-time orders: 15% off site-wide with code ELEPHANT. No minimum spend, no restrictions.
For a happier buzz, whiter teeth, and fewer bathroom trips, Elephant Journal readers can enjoy this magically refreshing caffeinated elixir 100% risk-free—there's a satisfaction guarantee with every order.