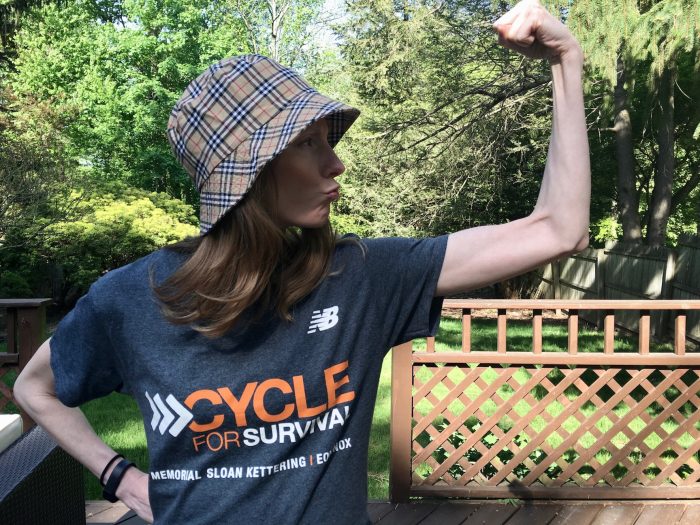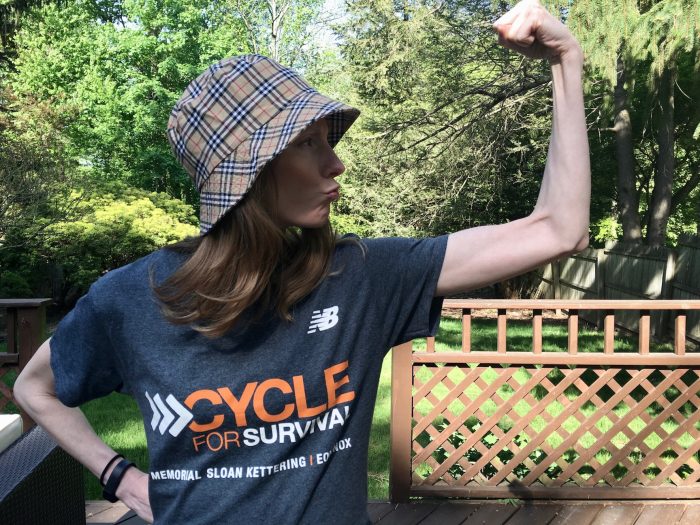 It's February, and winter drags on.
It's dreary. Depressing. A few holdouts still have their holiday lights up, still trying to bring cheer.
What about our New Year's resolutions? We promised ourselves that this year, we were going to get fit. But now it's the end of February. Has anyone else already abandoned the notion, effort, and time?
It's cold and dark before and after work, and it's really hard to drag my butt to the gym. Most of the time, I'm hard-pressed to even walk 20 minutes because it's so cold; despite my 15 layers of Uniqlo Heattech, it still takes twice as long to thaw out as it did to walk.
I'm a cancer survivor.
The two-year battle to save my life worked, but it kicked my butt in the process. There were days I couldn't walk to the end of my driveway because of the pain and exhaustion of chemotherapy. Now, I'm blessed to have enough energy to go to a gym again.
Still…it's wicked cold. So I had to think of some new tricks to convince me that the gym was a good place to go back to:
Stop thinking anyone is judging you.
I have belonged to basement gyms with meatheads and out-of-work actors, as well as fancy-pants gyms with spas, vegan smoothies, and full childcare centers that rival a Montessori school.
I've felt self-conscious at every gym I've ever been to. It feels like gym people can be really judgmental. But is someone really judging us—or are we judging ourselves? Most of the time, we're just projecting our insecurities onto other people. In reality, everyone is so busy being self-conscious they don't have time to judge anyone else.
So when we drag ourselves to the gym next time, try smiling at the person next to you. Put them at ease.
"When we judge others, we are often projecting out something we don't want to feel about ourselves or something we feel is missing about ourselves" ~ Gabrielle Bernstein
Find your people.
Hopefully when we find ourselves at a gym with high-strung perfectionists, it's when we're on a free gym trial. In that case, get the free workout, use any nice toiletries, and get out of there.
Gyms are trying to win our business. They make their money on a monthly membership and get paid whether we use the membership or not. Don't waste the money if you don't find your kind of people—or to be clear, kind people.
At the start of the new year, I joined the YMCA. I grew up at my local Y. It was the heart of my Ohio community before the gym explosion, and it's what I know. So my local Y's run-down weight room in a beautiful, historic building (which is in desperate need of an upgrade) suits me just fine. For one thing, I can afford it—cancer left me unable to return to my balls-to-the-wall corporate job. Equally important is that everyone at the Y is nice. The senior citizens and families I encounter are just as happy to be alive and together as I am.
In my area, there is a new gym every mile. If that's the case for you, keep trying gyms until you find the right fit and price. It's important to feel like we belong at the gym because we're more likely to go when we feel comfortable.
"All I ever wanted was to belong, to wear that hat of belonging." ~ Anne Lamott
Find what works.
This week, I gathered my courage to try Zumba again at the YMCA. I still can't jump or gyrate, but my feet can keep up with the footwork. Nobody checked out my clothes, and nobody huffed that I was in their space. We all just danced for an hour. Then, after the class, the ladies asked me to come back. I was in the right place and welcome to return.
Going to a new class can be really intimidating. Here's how I found my groove again:
>> Go to the back of the class (let the regulars be in the front so we can follow their moves).
>> Don't workout in front of mirrors if possible. Mirrors can help us check if we're doing the move right, but they can also distract and dishearten us. We think we look like J-Lo and then are crestfallen when we see that we look more like Gumby.
>> Realize everyone else is as self-conscious about how they look and only watching themselves.
>> Don't worry about being perfect—just have fun, and laugh when a screw-up happens. It will release more oxytocin, which will cause even more happiness.
What we weigh doesn't matter. It's not the reason to go the gym. We need to be strong enough to stay healthy.
We should go to the gym as a form of self-love, not self-flagellation. I feel euphoric that I've found a gym to help me care for myself and get to my next level of wellness. So if anyone else has fallen off the fitness wagon since New Year's, maybe start with being brave, getting out the door, and maybe, just maybe, finding the right tribe.
"Kind people are brave people. Brave is not something you should wait to feel. Brave is a decision. It is a decision that compassion is more important than fear, than fitting in, than following the crowd." ~ Glennon Doyle Melton
~
Relephant:
~
Author: Tracy White
Image: Author's Own
Editor: Catherine Monkman
Browse Front Page
Share Your Idea
Comments
Read The Best Articles of November
You voted with your hearts, comments, views, and shares.
CLICK TO SEE WHO WON