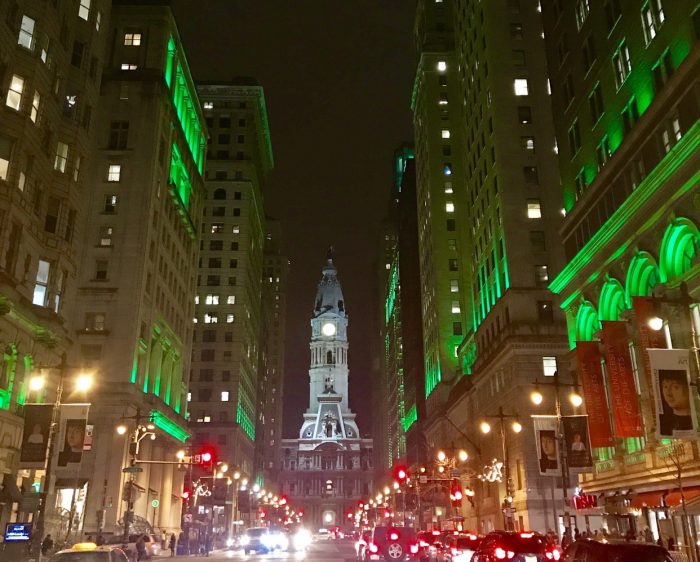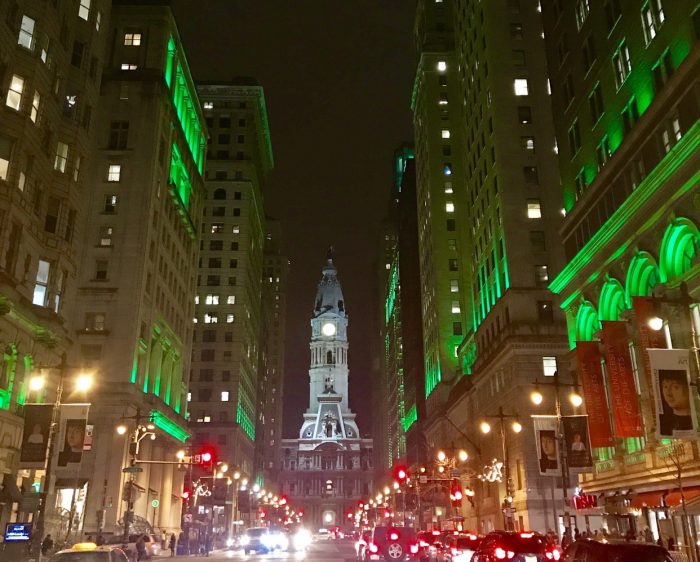 Truth be told, I've never been a fan of big-money corporations and industries.  I've never idolized overpaid professional athletes.  I've never cared to memorize their names or stats.  But that doesn't mean the value of the sports world has been lost on me.  It doesn't mean I don't feel something inside when I hear the sounds of fans, whistles, and commentators' voices pouring from the television screen.
Because I do – I do feel something.  I felt something when I left work the other night, stepped out onto Broad Street, and stood upon the cobblestone median, gazing in awe at the green lights dancing across the historic buildings of Philadelphia.  Those lights made me remember, and remembering feels like home.
You see, it's not the game, but the rituals and traditions that fill me, make me feel as though I'm part of something magical, even soulful.
Such rituals and traditions began when I was just a young girl, sitting next to my father as he screamed and cheered for a team that was playing across a bridge and about twenty minutes away while my mother prepared food in the kitchen.  On any given Sunday, the aroma of pasta and meatballs, turkey chili, or chicken noodle soup filled our home, brought warmth to our insides.
I can still smell my mother's home-cooked meals, still hear the sound of my father rubbing his hands together in anticipation of the next play, especially when his chosen team was winning – or close to it, on the verge of making a comeback.
But more often than not, he was rooting for the underdog, the team that has only made it to the Super Bowl twice since it was established in 1933.  Though I wasn't paying close attention to the game, I always listened closely to my father, talking to players like Ron Jaworski, Reggie White, Randall Cunningham, Donovan McNabb, or Brian Dawkins as if they could hear him.  From the comfort of his couch, he coached alongside Buddy Ryan and Andy Reid – sometimes praising them, other times cursing them.
My father was a football coach, after all – one who taught young township players, including his own son, to play "for the love of the game, to play with heart."  Years after he attended every football game that I was somewhat part of as a cheerleader, my father coached my 12-years-younger brother, who wore a very different uniform, but who donned the same black and orange colors of our small town.
It was during those years that I learned to appreciate the sport my father and brother so loved, for I witnessed conversations and celebrations, frustrations and analyzations that made me realize my father had been talking about life all along, using football as his grand metaphor:
You gotta keep your head in the game. You can't let them psyche you out.  Don't give in – get in.  Get back in there.  Stay focused on yourself. Don't worry about what the other guy is doing. Find that killer instinct.  Man up now. Be aggressive, but stay in control. Watch out for your brothers on the field. You gotta have their backs. Do it for the love of the game. Play with heart, or don't play at all.   
My mother and I would be somewhere in the shadows of such conversations, staying silent in the midst of voluminous voices, those of the men we loved.  They were intense and passionate, bearing red faces and clenched fists.  I didn't understand the emotion then, but I do now.  I do now.
Now as a grown woman and a mother of a teenage boy, I find myself making home-cooked meals on Sunday, like my mother. I find myself turning on the television, listening to games I'm not watching as I move about my kitchen. I find myself hearing the echo of my father's voice – or perhaps it's my son's; he sounds just like him now.  I find myself listening to the advice my father gave my brother, remembering that each impassioned pep talk ended with my mother placing an arm around his little body, telling him not to be too hard on himself.
And as my senses take it all in, as my memory conjures up what was, I find myself feeling so incredibly grateful that all of it still is.  Sundays are still for family and homemade meals.  They're filled with raised voices and excitement, hoping to see a win. They gather our bodies side by side, by bonds that can't be broken, traditions that can't be stopped.
Whatever happens in this year's Super Bowl, whether my father's beloved Eagles win or lose, one thing is certain: people all across the country will be coming together in similar ways – united and hopeful, "for the love of the game," or like me, for the love of life and the things that make us feel alive.
For more of Angela Albright's writing, follow her on Instagram:   https://www.instagram.com/angela__albright/
Browse Front Page
Share Your Idea
Comments
Read The Best Articles of December
You voted with your hearts, comments, views, and shares.
CLICK TO SEE WHO WON