Everybody poops.
And yet, lots of us still have pounds of backup we're dealing with on a daily basis. It's been said that the average American carries between 5-20 extra lbs of poop in their intestines. Ew. No wonder so many people experience digestive issues, bloating, and have trouble losing weight.
Enter zuPOO, an all-natural blend of vitamins, minerals, herbs, and barks that has one purpose and one purpose only—to flush waste out of your system. Developed by top natural chemists, zuPOO uses 6 natural ingredients to flush your gut and intestines of all the waste buildup that has accumulated inside of you.
~ Ryan W.
Simply take 1-2 capsules in the evening before going to bed. You may experience a buildup of gas over the following 12-24 hours, but soon enough, the sh*t'll hit the fan. Then continue supplementing for a full 15 days for a complete flush of the digestive system.
UMZU's 3 step system leads to 3 major results:
Better digestion: Experience a smoother digestion process when you clear out your digestive tract.
Cleanse: Eliminate toxic waste in your body and flush out any hormonal blockers in your stomach.
Weight loss: With up to 5-20 lbs of poop in your body at any time, a flush can have you feeling lighter and slimmer.
Step 1: zuPOO to cleanse the colon. It's also a good idea to take ZUUM Lytes during the 15-day cleanse as cleanses can be dehydrating.
Step 2: Replenish your gut with GOOD probiotic bacteria with Floracil50.
Step 3: For ongoing maintenance due to food sensitivities, supplement with zuENZYMES digestive enzymes.
Best of all, UMZU is giving Elephant readers 20% off using code EJPOOPS if purchased by May 25th. Happy pooping!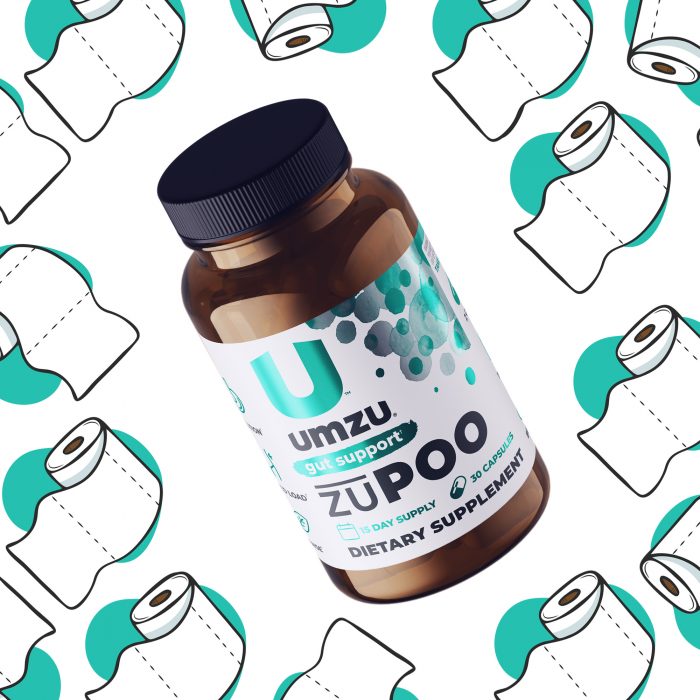 About UMZU: At UMZU we believe that the human body is a self-healing organism that when supported correctly has the ability to not only heal itself but allow itself to thrive. This means alleviating micronutrient deficiencies and hormonal imbalances in order to allow energy production throughout the body to be at its highest possible capacity. All UMZU products are backed by the research, time, and care needed to produce a supplement that really works.