a kind of amazing life.

Win a Bundle of Elixinol's Functional CBD Oil Capsules.
brought to you by Elephant Journal & Elixinol
Elixinol's CBD Capsules, made with high-potency, non-GMO organically grown hemp, are the perfect way to get just the right dose of CBD every time. Blended with unique ingredients to target specific solutions, Elixinol offers CBD oil capsules for inflammation and antioxidant support, body comfort, stress, or just daily wellness. With this giveaway, valued at $110, you get:
1 x Full-Size 900mg Good Night Capsule (Value $54.99)

1 x Full-Size 450mg Daily Balance Capsules (Value $29.99) 

1 x Capsule Trial Set ($25.99) 

2 x 2cap sachet Omega Turmeric Capsules

2 x 2cap sachet Body Comfort Capsules

2 x 2cap sachet Stress Less Capsules

5 LUCKY ELEPHANT READERs WILL WIN A $110 Elixinol Wellness bundle.
ENTER TO WIN HERE!
Or if you can't wait, explore the products and use ELEPHANT15 to receive 15% off sitewide.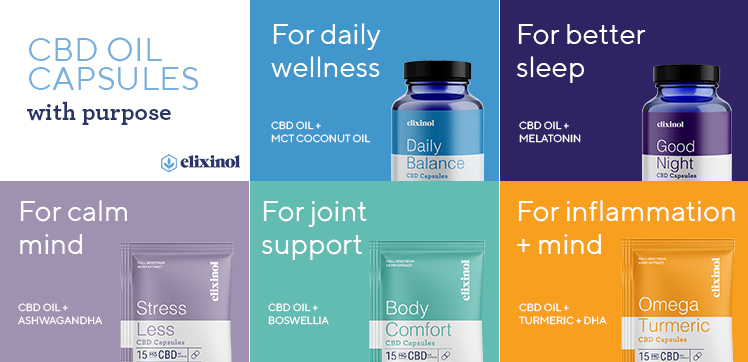 Let's face it—life is nothing if not unpredictable. Regardless of how much planning and scheduling we may do, it's hard to be prepared for every unexpected moment that throws us off balance on any given day. It's no wonder then why living your "best life" can be an ongoing challenge. That's where we come in. From aches and pains to inflammation, sleepless nights, or for days when you feel like the whole world is on your shoulders—our line of functional CBD capsules are there to help you feel better. So no matter what holds you back from your best days, you can live a life that's, well, kind of amazing.