Apply to work with Elephant: Social Media & Editorial.
Note: you can use the below application for our Talk Show Producer role, as well as Editorial/Social Media. Job responsibilities listed are for Editorial/Social, not Talk Show–get that directly from Waylon.
Elephant Journal is the world's largest mindful lifestyle website (2x as big as, say, Goop), with 3 million readers/month, 10 million-plus Facebook fans on 60 pages (2.5 times more than, say, MSNBC), 750,000 Instagram fans on five accounts, 5 million YouTube views, a popular Facebook and Instagram Live series with founder Waylon Lewis…and we've been voted #1 on Twitter for #green content twice, nationally.
We aspire to be a Small Giant—a culture of openness, cooperation, independence, fun, and diligent mission-driven work.
Elephant Journal, an eco-printed magazine turned online journal, is an independent, mission-driven company with a book division, an award-winning video series, an online training academy, and an ethical online shop devoted to curating conscious consumerism. Our vision is to be a first-tier independent media source reaching beyond our core, or choir, to all those who didn't know they give a care about living a mindful life.
Candidates must be curious and caring about living mindfully, hate plastic, would rather bike or walk or bus than drive, want to work (and play) in an inspired (chaotic), entrepreneurial environment. Must enjoy the fast-paced culture of the web and being part of a productive, high pressure and competitive team.
Social Media Editor: Boulder, Colorado or Overseas (anywhere from UK/Africa/India/Asia/Australia—GMT +2 to +12) Only.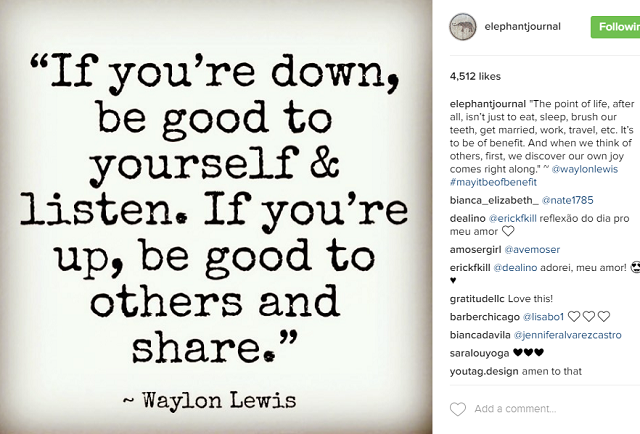 This position is full-time at our HQ in Boulder, Colorado or Overseas. Social Media/Editorial shifts are between the hours of 8 a.m. to 8 p.m. Ability to work evening and weekend shifts a must.

If you are interested in learning the ins and outs of social media and editing but aren't looking for a full-time gig, check out Elephant Academy. 
Candidates should have editorial experience with magazine or online media content, an exceptional grasp on grammar, an understanding of how to craft compelling content on social media that serves both our readers and our articles, a passion for words, a hatred of typos, meticulous organizational skills and follow-through, excellent written communication, eagerness to work as a team, comfort with deadlines, reaching and exceeding goals, and an ability to read long lists.
Candidate must:
• Be willing to commit long-term
• Take direction well and work collaboratively with team members (we call this touch and go)
• Think for yourself and bring new ideas and solutions to the work—this is more than being assigned tasks and checking off a to-do list
• Be driven by friendly competition, growth, numbers and analytics
• Be able to process stress/burnout in a mindful way
Job Responsibilities:
• Write engaging headlines and intros that grab readers' attention on social media
• Share new and timeless Elephant articles across our social media channels and engage with our active online communities
• Track audience engagement and reach on our social media channels
• Accept or offer feedback on incoming article submissions
• Copy edit new articles in line with our Elephant Style Guide and editorial voice—a friendly, personal, inclusive tone—that offers our readers a mindful or practical take on life
• Update article placement on our website to create an active flow of what we want to highlight each day
• Generate new article ideas and pitch them to our writers
Ideal candidate will have:
• Degree in Journalism, English, Communications or similar field
• Experience copy editing for a publication or website
• Familiarity with and active participation in new media and social media channels including Facebook, Instagram, Twitter, YouTube, Tumblr, Pinterest and newsletters
• Exceptional attention to detail, grammar and crafting of articles
• A go-get-'em attitude. No task is too large or too small to conquer if it furthers our work to be of benefit to our world.
Flakes need not apply. Commitment minimum 1.5 years, ideally longer, with the understanding that the role and pay can grow.
Before you apply, make sure you're familiar with Elephant.
If you've never written for Elephant: elephantjournal.com/post
Get our free Newsletter: elephantjournal.com/best
Check out: facebook.com/elephantjournal > Instagram: @elephantjournal, @ecofolks, @waylonlewis, @walkthetalkshow, twitter.com/elephantjournal
~
~
Elephant Journal Application Test
Interested in becoming part of the Elephant team? If you pass the test below, we will be happy to review your resumé, experience and references. We respect your time and ours so we'll contact you for an interview only if we feel you could be a valuable addition to our dedicated team.