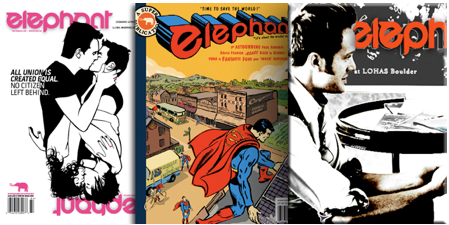 Elephant VIPs: support the Cause.
Do you loooove Elephant? Help Indie, Mindful Media survive: become an Elephant VIP & help us continue paying our best, consistent writers to do good work for you. We'll feature your name in lights right here!
ELEPHANT VIPs will be listed here.
These Human Beings enable Elephant to Pay more of our best, consistent Writers (still a very rare thing online) and Editors to do Good Work for you on the Daily.
Inspired to fund $1,080 of quality Writing & Editorial Work? Become an Elephant VIP: 
Can't afford VIP? Give $108 to help us continue: elephantjournal.com/read
Elephant VIPs with a valid address (enter in button, above) will receive an Elephant Thank You Box:
Member Tote Bag (organic, made in USA),
Lapel pin (recycled metal, plastic-free),
Handthrown Mug,
Five colorful Elephant Stickers,
And a tear-stained, handwritten Oh My God Thank You So Very Much note from Elephant Founder Waylon Lewis on behalf of our staff and authors—and readers.

May it be auspicious! May we be of benefit!