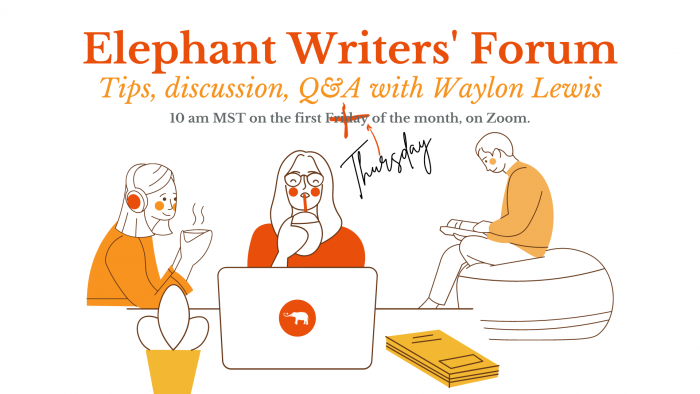 You're cordially invited:
The first Friday Thursday of every month, we'll host a Zoom call for Elephant Writers!
We'll answer your questions and tell you about what we're up to! You can tell us what's working, what's not, you can yell at me, or share an article. We'll talk about payments, readership, ideas—whatever we want! If folks attend and it's helpful, this will be ongoing. Please come if so inspired.
Join us Thursday, March 4th at 10 am MST:
https://us02web.zoom.us/j/5850463033?pwd=K052N3Q4emZUK1AvWnJIZ05Fb3Q5QT09
Passcode: ofbenefit
Yours in the Vision of Enlightened Society,
Waylon Lewis
Editor-in-Chief
Zoom info & tips:
Please come a few minutes early to socialize and troubleshoot tech so we can start on time.
You'll need a Zoom account, so set one up beforehand if you don't already have one.
Have earbuds handy in case there is an echo, otherwise we'll need to mute you.
We'll want you on video! For the best connection, make sure no one else is using your wifi (if possible) or they're limiting use/not streaming video.
For your computer's health and happiness, close any tabs and programs you're not using so it can dedicate most of its energy to the Zoom call.
During the forum, please silence or select Do Not Disturb on your phone so there won't be interruptions.
February 5, 2021
Some notes from the forum:
January 1, 2021
Some notes from the forum:
"Mostly, we authors must repeat ourselves—that's the truth. We have two or three great and moving experiences in our lives—experiences so great and moving that it doesn't seem at the time anyone else has been so caught up and so pounded and dazzled and astonished and beaten and broken and rescued and illuminated and rewarded and humbled in just that way ever before.Then we learn our trade, well or less well, and we tell our two or three stories—each time in a new disguise—maybe ten times, maybe a hundred, as long as people will listen." ~ F. Scott Fitzgerald

Email us:

[email protected]

or

[email protected]
December 4, 2020
Upcoming Themed Months:
January: Combatting Stress & Anxiety
February: Intimacy Month
March: Hormone Health
A few recent themed months:
Recipes; Maitri; Mindful Moms.
Mark your calendars: the next Writers' Forum will be Thursday, March 4 at 10 am MST.