get elephant's newsletter
You're the prettiest thang in this whole Whole Foods
Love this one (props to Boulder Weekly for the tip), which is far better than you think it will be by the rather obvious traffic-inducing title:
Damn, who's that girl I see across the room?
You're the prettiest thang in this whole Whole Foods
Slip fair trade coffee in yo' cup, getcha in the mood
So come with me in my drop-top Prius, baby
My love is like global warming, you can't deny it
It's an inconvenient truth, but I cannot hide it
So turn off the lights cuz it's eco friendly
You know you like the size of my carbon footprint
Girl you know I-I-I
Girl you know I-I-I
You got me crazy, mixing up my papers and my plastics
Girl you know I-I-I
Girl you know I-I-I
Don't need no condoms
'cause rubber ain't biodegradable
Earth Day Sex
Ain't no better day for loving
Earth Day Sex
Girl by now, my intention you oughta know,
Wanna get into the hole in your ozone,
Our love's not about sustainability
Only need 1 night to melt your ice-caps, baby
You tree-huggin' all day, so could
you spend all night protecting my Redwood?
Now I gotta know if I can
come and develop your wetlands?
Girl you know I-I-I
Girl you know I-I-I
Just don't panic, I'm 100 percent free-range organic
Girl you know I-I-I
Girl you know I-I-I
You got junk in yo' trunk
and I'd like to compact it, yeah
Earth Day Sex
Ain't no better day for loving
Earth Day Sex
Let's recycle tonight baby…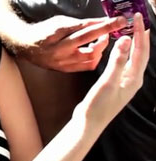 The original: