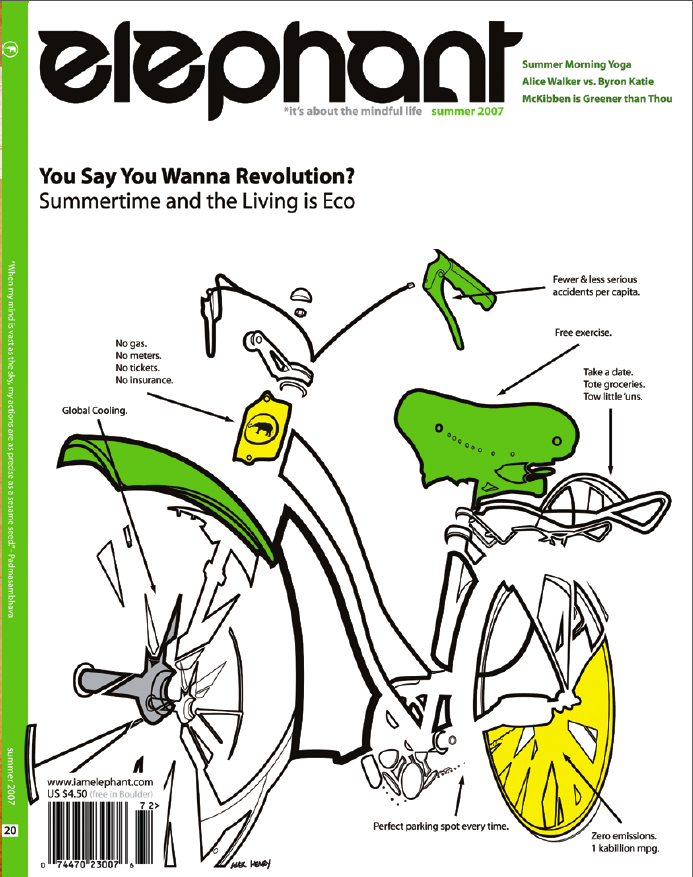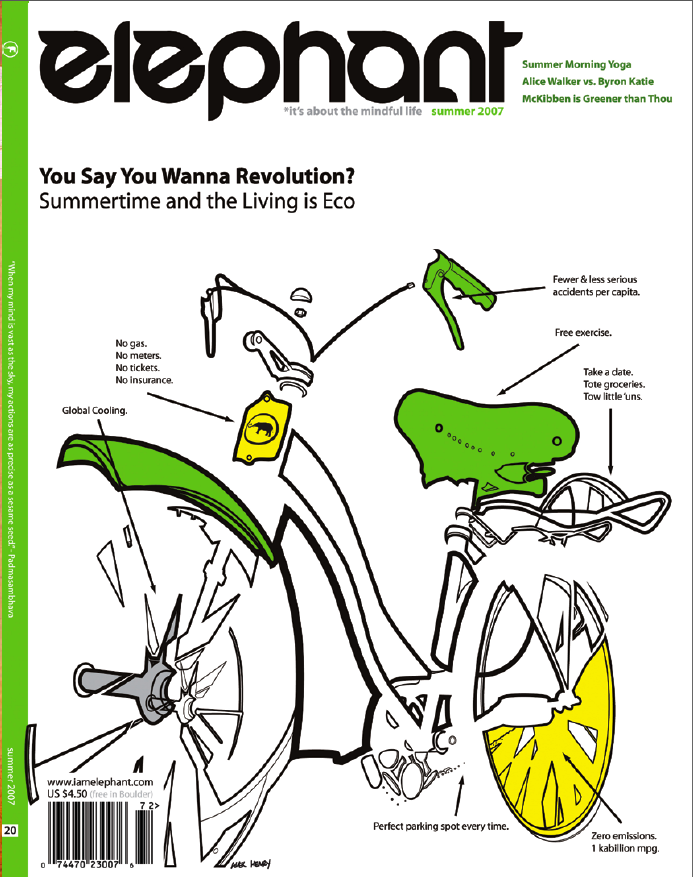 Back when we were a print magazine.

You can read the above article (I wrote it). It talks about…yes, nonpartisanship, and facts. But that's not what this letter is about.
This letter is about the most exciting thing in Elephant's history since transitioning online, from a national ecoprint magazine 10 years ago.
In the above image, you'll see "Ecosystem Rating" top left. At time of writing, my article has a 5.8/10. That's pretty good, but not great. That Rating is based on you: your reads, your shares, your hearts, your comments (positive or negative, all comments count as long as constructive).
From now on, all actions you take will help a writer's Rating.
Who cares? Ratings will now organize Elephant: when you go to our Front Page, articles will (soon, not yet) be arranged by Rating, constantly refreshing, like a "mindful" Reddit. So if you support a writer or an issue (say, dog rescue), then read, comment, share, or heart it—and that issue or writer might make our Front Page.
If you're a reader, our Front Page really matters now—not just a little bit. It'll (soon) be constantly new, showing just our best. And not just our most popular—Editor's Picks are 20% of the Rating, and will help important issues (like, say, plastic waste or war or sexual assault or palm oil) that aren't "sexy" make our Front Page.
If you're a writer, if you work to get shares, views, comments and hearts from your community, like a garage rock band—your article's Rating will rise. This matters 1) if you think your issue is important, 2) if you want to get your name or voice out there, or 3) if you'd like to compete to be one of our top 10-15 writers of the month (who get paid!). Again, popularity won't be enough to win—you'll want to win our Editor's Pick, get hearts, comments, shares—not just views.
Why is this all so important? Because, from now on, Elephant will become a mindful, mission-driven social media platform—not just a huge blog or web site. Why does that matter? Because we'll no longer have to rely on Facebook, or other social media that may not be so mission-driven. We will be able to stand on our own two feet—thanks to a democratic community.
So try it out. Heart my article or comment on it or share it or find an article you want to comment on, or heart, or share. Get your free account here.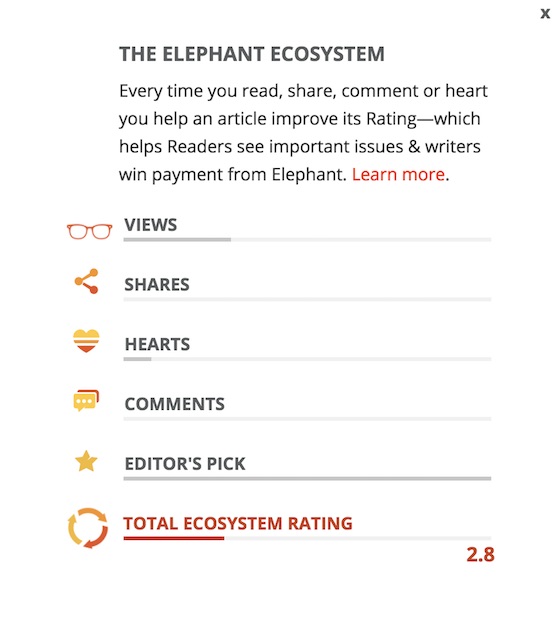 PS: one pro-tip: if you click the Ecosystem Rating, it'll open up into our "horse race"—showing, in some detail, how an article is doing in each category. Try it.
Another write-up (don't bother to read unless seriously interested):
Elephant was an independent, unfunded local then national eco print magazine for 6 years. A success story only because of its readers, and staff.
Then, I jumped online, and we won a host of awards and reached 23 million uniques/month.
Then, Facebook changes hurt us for 4 years…but at the same time, largely thanks to our subscribers, and Dave, and Kaitlin and Jeff…we've improved our staff and have a gorgeous office downtown and are able to take better care of our staff.
Now, the biggest change in 10 years. The Elephant Ecosystem. It'll transform Elephant from a huge blog to a puny platform—truly independent for the first time, capable of standing on its own two feet without our 5 million Facebook fans that Facebook no longer lets us connect much with.
The Ecosystem Rating will help writers get paid and important issues get to our Front Page. It's an unholy combination of noncot and Threadless and Reddit and Kickstarter, all pointed to serve creative writing and journalism….and, if it works, we'll be able to pay 1000s of writers a month, not just our top 15 (which is what we do now and have done for many years).
Every time you read, share, comment (positive or critical), or heart an article, you increase the rating (unless it's maxed out in that category, already). If you care about an issue, help it get to our Front Page. If you love a writer, help 'em get paid.
Pro-tip: if you click the Ecosystem Rating top left on all new articles, you'll see our "horse race"—a more detailed breakdown of how the article is faring in each of our five categories.