get elephant's newsletter
The below is shared with us via our friend Jennifer Nordhem.
The BFF Celebrates 10 Years of Bicycles, Art, Film, & Culture with Three Days of Events in Denver, September 9-11.
The Bicycle Film Festival is an arts and cultural event that celebrates the bicycle. The festival brings together many creative communities, including fashion, music and art, as well as various bicycling communities—road racing, mountain biking, fixed gear, BMX, and bike polo—over a shared passion for bike riding. 300,000 people are expected to attend globally this year.
We are proud to announce the Bicycle Film Festival's second year in Denver, and the tenth anniversary of the international Bicycle Film Festival. In tandem with the growth in urban cycling, the BFF has spread all over the world to 40 cities from its roots in New York City into a multi- faceted, international event that travels from Milan to Tokyo, Minneapolis to Sydney.
In 2001, Brendt Barbur, Founder and Director, was compelled to start the Bicycle Film Festival after being hit by a bus while riding his bike in New York City. Instead of being deterred by this experience it inspired him to create a festival that celebrates the bicycle through music, art, and film. Now in its tenth year the festival is held in 37 cities worldwide.
"We are looking forward to it. Denver and its surrounding areas are some of the greatest places to ride in the country. We are proud to bring the BFF to the Mile High City," says Brendt Barbur.
Film Screenings in Denver will be held at the Starz Film Center at the Tivoli 900 Auraria Pkwy. Free bicycle valet parking will be provided at the screenings.
Film highlights include:
Lucas Brunelle Line of Sight (Dir. Benny Zenga & Lucas Brunelle) from the vantage point of his custom helmet-cam Brunelle films unsanctioned street races around the globe. His footage gives us a unique perspective on the best urban riders in the world in their natural element. This film turns the camera back on its subject and showcases this rare talent and "international man of mystery."
The Cyclocross Meeting (Dir. Brian Vernor) A film about the currently exploding US cyclocross scene, and the emerging Japanese cyclocross scene. The Cyclocross Meeting top US races in New Jersey and Oregon, and then to Japan, where they compete with seven time Japanese National Champion.
Birth of Big Air (Dir. Jeff Tremaine), a documentary on BMX legend Mat Hoffman, produced by Spike Jonze, Priya Swaminathan and Dickhouse Productions.
Tickets will be available for online purchase.
Tonight
The Bicycle Film Festival Denver kicks off with a Group Ride and Goldsprints on Thursday, September 9th!
BFF Kickoff Party with Goldsprints
The ride will be about an hour or two and will loop around the city, ending at the Kickoff Party at Shag Lounge.
SHAG LOUNGE
830 15th St. at 7PM, free
With DJ's Boyhollow + MADA
Race Goldsprints for a chance to win a Play Mountain Bike Capital USA Prize Package!
Includes: 2 Nights Lodging at The Pinnacle Lodge, 2 Trestle Bike Park Passes, 2 SolVista Bike Park Passes, 2 All-Day Mountain Bike or Cruiser Rentals, $50 Dinner at Hernando's Pizza & Pasta Pub, Cooper Creek Square Shopping Spree, 2 Limited Edition Mountain Bike T-shirts
There will be other prizes and giveaways from:
DVLP Clothing, Breathe Yoga + Cycle, City O' City/ WaterCourse Foods
Join us at Track Shack, 1338 Tremont Pl., at 6PM for a group ride hosted by X Rocks the Spot and LOOPS.
Films start at Starz FilmCenter at the Tivoli on Friday, September 10 at 7PM, purchase tickets at Bicycle Film Festival's website.
For event details, check out facebook.
Friday
Friday night join the Bicycle Film Festival celebration for a FREE AFTER PARTY!!!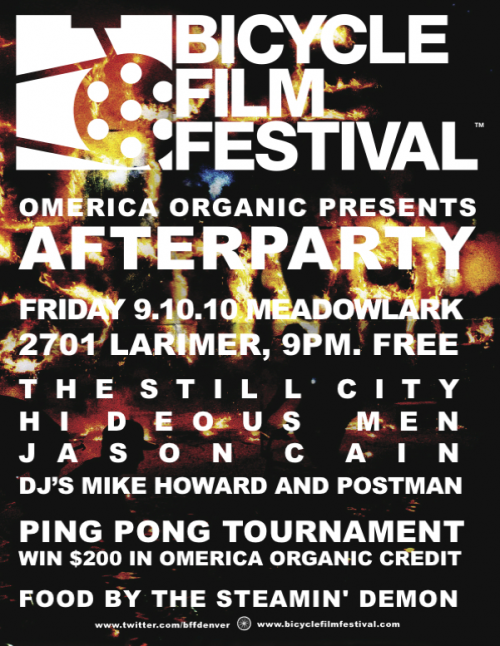 Meadowlark Bar
2701 Larimer St., 9pm, free
Music From:
The Still City, Hideous Men, Jason Cain, DJ Mike Howard, DJ Postman
Omerica Organic will be giving away $200 in store credit to the lucky winner of the Ping Pong Tournament. Suck at ping pong but still want the gear? They will be handing out 20% off coupons to anyone who wants 'em!
Hungry? The Steamin' Demon will be providing food on the back patio!
For more, check out the Facebook event.
Saturday
Saturday we will be closing the weekend with a Dance Party!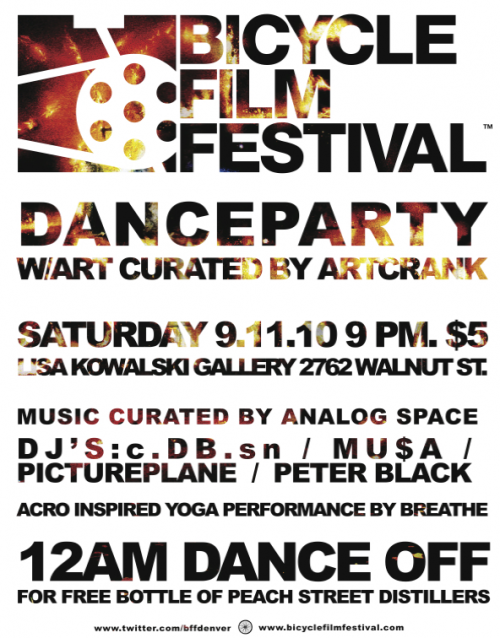 Lisa Kowalski Gallery
2762 Walnut St., 9pm, $5
Big props to Analog Space who has curated this night's music:
DJ Mu$a, Pictureplane, c.DB.sn, Peter Black
Missed ArtCrank? Think again, the gallery will be open for poster sales from 1pm-9pm on Saturday. Party kicks off at 9pm!
Breathe Studio will be starting the night off at 9pm with an acro-inspired yoga performance.
Don't miss the Dance Off at 11pm for a shot at insta-popularity and a bottle of Peach Street Distillers liquor!
For more, check out the Facebook event.