There are a lot of very, very, very serious issues afoot in the American yoga community these days. Please allow me to refresh your memory. First, there was the brouhaha boiling between yoga and Christianity. Then there was all the hubbub about sexy yoga ads. Not to mention, the hullabaloo over the commercialization of yoga by "rockstar" yogi, John Friend, and "slim, calm, sexy" yogini Tara Stiles. Heck, just last week, The Boston Globe featured a piece called "What has happened to yoga?" which discussed a recent summit of some pretty famous yogis who convened to air their grievances over the future of yoga in America.
All of this has caused a royal ruckus in the yoga blogosphere and in yoga studios across the globe. Many of these debates have raged right here in the virtual pages of our beloved Elephant Journal. There are those who say that these issues are just the natural growing pains of a tradition that is still relatively new to this country. There are others who are ready to exit yoga stage left altogether.
I say, now is the time – now more than ever – for a little kumbaya. And what better way to do it than by throwing your own yoga-themed Halloween party?!
Yes, you read me right.  Now quit rolling your eyes and get in the spirit! After all, Halloween is less than two weeks away, my friends.
First things first. You gotta get yourself a big, beautiful pumpkin and carve an Om into it.  Trust me, it's not that hard. You can find some pretty cool patterns, and they're free!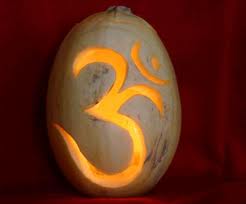 Okay, so this is a spaghetti squash…but it works on pumpkins, too.
And no Halloween party is complete without some sugary, chocolatey, deliciously unhealthy candy. Assign each of your yoga friends to pass out certain types of candy specific to their personalities, qualities, eccentricities, etc. For instance, assuming she would fly clear across the country to attend my soire, I would assign yogi blogger extraordinaire, YogaDork, to pass out boxes of Nerds. For my yogi friend who still cannot pronounce her asanas in sanksrit? She gets to pass out the Whatchamcallits. For the lady in your class who cannot be seen without wearing an outfit consisting entirely of Lululemon? She'll pass out the 5th Avenue bars (that's the fancy address in NYC, right?). That student in your class who always sneaks out before savasana? Reese's Fastbreak bars.  The one who always sliding around on his slippery yoga mat? The Butterfinger bars. I've got much more where that came from.  But I can hear the groans, so I'll move on.
Finally, and most importantly, we've gotta get some yoga-inspired costumes. Can't think of any? Maybe this will get the creative juices flowing. In 2008, supermodel Heidi Klum dressed up as Kali, the Hindu goddess of time and change: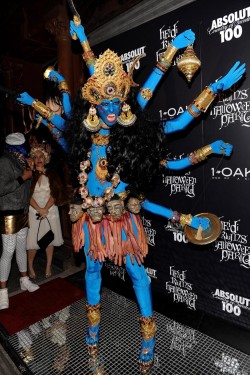 Too much with all the arms? How about a costume inspired by Ganesh, the remover of obstacles? Check this out: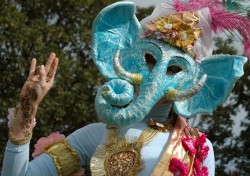 What, no Ganesh mask sitting around?  Get yourself some Elmer's glue, last Sunday's newspaper, and some blue paint, and fashion one out of paper mache, why don't ya!
Want something a little less sacreligious?  Eh, I don't blame you.  That's why I'm currently trying to convince The Hubby to spend All Hallow's Eve parading as my very favorite yoga personality.  This guy: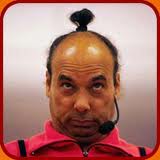 Except, I'm really gunning for him to dress up as the Bikram-in-his-black-speedos-sitting-atop-his-throne-with-the-interesting…um…bun…atop-his-head (see above).  It's either that, or the Bikram-as-Tony-Montana: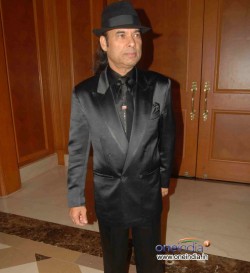 For me? I haven't decided yet. Either I'm gonna go as Gurmukh: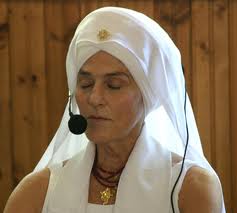 Holy Kundalini, that would be so awesome.  Or, I'm gonna grab a massive, curly, blond wig, shave a scar into my right eyebrow and call it a Seane Corn Halloween: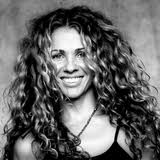 Trick or treat, yogis! Have fun. Remember, all you need is love (cue trombones) this Halloween! Or, as Hillary Clinton said: "What we have to do . . . is find a way to celebrate our diversity and debate our differences without fracturing our communities."