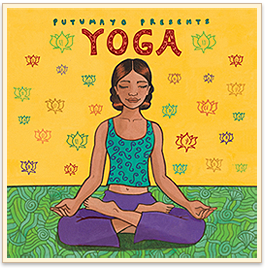 Wow, what a wonderful album!
If you are familiar with Putumayo World Music, you'll already know that they have been bringing us excellent collections of music from every corner of the would for many years.  Just take a browse though their extensive catalog to get an idea.
This is Putamayo's first venture into yoga music, although not their first trip to India.  (see India).
As with any Putumayo album, the production values for the liner notes match the very high production standards of the music.   How many Yoga CD's today come with a 27 page booklet with a history of Yoga, a glossary of Yoga terms, photos and backgrounds on all the musicians, and full album credits?
If you see your favorites here, great.  If not, get the album anyway.  They're all good.
1 Lucknow Project • Ghungate Ke
2 Sean Johnson & The Wild Lotus Band • Om Hari Om/Sharanam Ganesha (Refuge)
3 Shantala • Purnamadah
4 Wah! • Bolo Ram
5 Ben Leinbach & Geoffrey Gordon • Cerulean
6 Karnamrita Dasi • Devaki
7 Niraj Chag • Bangles
8 Amounsulu • El Bosque Eterno de los Niños
9 Gaura Vani & As Kindred Spirits • Moods Of Kirtan
10 Susheela Raman • O Rama
11 Krishna Das • Hanuman Baba
12 Ablaye Cissoko & Volker Goetze • Sira
13 Lama Gyurme & Jean-Philippe Rykiel • Offering Chant
14 Yogini • Bliss
In addition to the things you'll probably expect in a yoga CD, there are many delightful surprises.   For example, would you really expect a Lama from Bhutan performing a traditional Buddhist chant to the ultra-sensitive accompaniment of a blind French pianist?
Maybe you would.  But I was surprised!
About the only criticism one could make about this album is that it can't begin to capture the range of each individual artist.  But that's in the nature of a collection, isn't it?
And there is a certain sameness of pace and mood throughout.  But isn't that exactly what one wants in a CD designed to accompany a meditative yoga practice?  And, in any case, that's more than made up for by the terrific variety of voice, color, instrumentation, and tone.
This album belongs in any collection of yoga music.  I'm sure it will soon be a staple for yoga classes.