get elephant's newsletter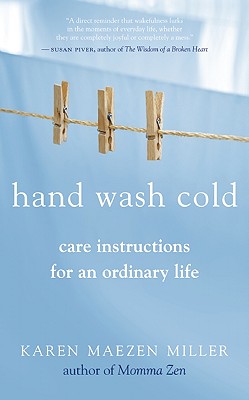 Most of us live waiting for our lives to start. The thought of "Once I get this or Once I get there then my life will really begin" haunts the thinking of the vast majority of us, and it is this thinking that Miller says is a huge mistake. The lives we are living right now, right here are our "real lives," dirty laundry and all.
Hand Wash Cold is a warmly written look at the way we live our lives, using common, mundane yet intimate tasks: laundry, cooking, washing the dishes, working in the yard to remind us that even in the midst of the ordinary lies the opportunity to experience the extraordinary. All it takes is for us is to pay attention to our lives, especially the ordinary bits. Calming and introspective, this book will lead you to an appreciation of life, sweaty socks, dirty dishes, and all.
From New World Library and available from your local, independent bookseller. (Shop local, shop independent, and tell 'em you saw it on Elephant Journal!)