get elephant's newsletter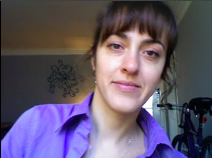 I was in a car accident in 2009 and found a kickass Chiropractor/ CranioSacral Therapist in LA named Pamela Dumond. I complained of a headache prior to one of our sessions and so she suggested we do some mouth work (CranioSacral). I was BLOWN AWAY by the shifts it made in my head. She taught me some of the points and now I'm passing them on to you.
PS: Correction in Video: I said 2 grams of pressure is adequate. It's actually 5 grams.