get elephant's newsletter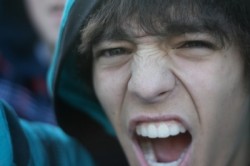 A Fable.
A large bag of nails.
Wisdom teaching:  There was a little boy with large anger issues. He rampaged about his life angry at the world, believing it meant him harm. His father observing this gave his son a bag of large nails and told him that every time he felt anger he should hammer a nail in the fence. The first day the boy had driven 37 nails into the fence but gradually the number of daily nails dwindled as he discovered it was easier to change his view than to drive those nails into that fence.
Finally the first day came when the boy didn't feel angry at all and he proudly announced this to his father. His father, in turn, suggested that he now pull out one nail for each day he felt at peace. The days passed slowly but at last the young boy was finally able to report that all the nails were gone. The father led his son by the hand to the fence saying:
"You have done well, but I want you to notice all the holes in the fence. The fence will never be the same. In much the same way when you express anger, it leaves a scar on you and the other person. With time, compassion, wisdom and understanding most wounds will heal however isn't it so much easier not to hammer in all those nails to begin with?"
~old teaching

~photo from freedigitalphotos.net by Ian Kahn