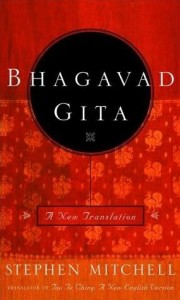 I'm pleased to announce Gita in a Nutshell, a new online discussion series.  We will read the highlights of the Gita by major theme (instead of in the order it's written).  I think you'll find this to be a wonderful revelation.  Our outline will be: Gita in a Nutshell: Big Ideas and Best Quotations.  The first blog is:
Gita in a Nutshell #1: Live and Act with Love and Purpose
The key passages for each week are included in the blog. (It will not be necessary to do any additional reading for this discussion, although, of course, you will also enjoy reading the whole Gita if you haven't already.)
I have recruited a number of regular committed participants to help add cohesion to the conversation each week.  If you would like to be one of these committed regular participants, please let me know. Of course, we still welcome participation from everyone.
Stephen Mitchell's Bhagavad Gita is the recommended text, and that's the version I'll be quoting each week.  But some readers might prefer to follow along in their favorite edition, and that's fine, too.  (I have compared Mitchell to many other versions of the Gita, and the major themes all come out the same, regardless of the translation, even though some of the details might vary.)
There is no experience requirement.  For Gita Talk we had everything from first time readers to Gita scholars, and everyone benefited from the great conversations.  We will pay particular attention to the needs of new readers.
If you are intrigued but not sure if this if for you, just take a look at Gita in a Nutshell to see what it's all about.  We'll be taking up each of these main themes of the Gita at one per week.  I will quote the relevant passages in the blog itself with a few words of introduction.  Then we'll all talk about it.
And, of course, if you're uncertain as to whether you should be reading the Gita in the first place, there's always the Top Ten Reasons to Read the Bhagavad Gita, #1 of which is:
You were supposed to during teacher training, but only got through 20 pages.
And you've felt guilty ever since.
Join our Facebook group Gita Talk at Elephant Journal to receive a notice of each weekly blog.
Please let me know if I can help you in any way.  You can contact me with a message below, on Facebook, or Twitter.