get elephant's newsletter
Today's college students have a voice, but do they know how to wield it?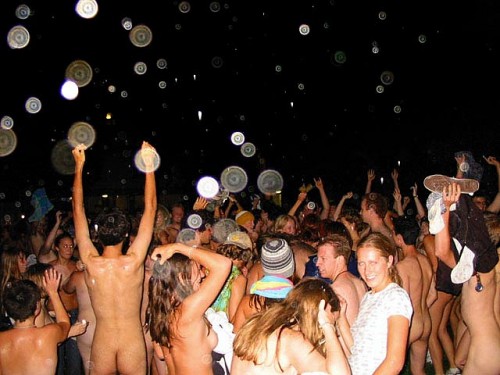 Every college campus has its traditions. At Columbia University, the marching band interrupts late-night cram sessions by parading through the library the night before the first organic chemistry final. Occidental students are dunked in the campus fountain on their birthdays. The students of Reed College devote an entire day every year to celebrating Nitrogen, an apparently woefully underrated element.
At my alma mater, the University of California, Santa Cruz, the students strip down to their birthday suits and sneakers and sprint around campus during the first rain of every school year.

The number of students who participate in the naked run every year is rivaled only by the number of students who come together every April 20th to get stoned off of their asses in Porter Meadow, the unofficial 4/20 campus headquarters.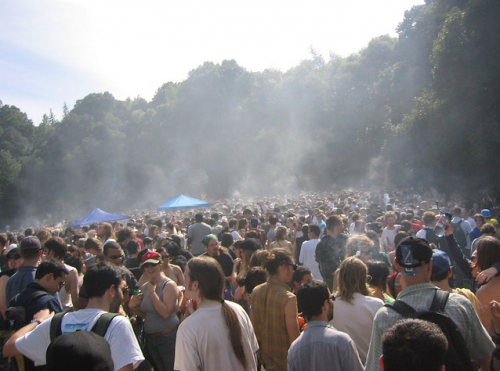 While I'm not usually one who is eager to find excuses to run around naked in public or get baked with thousands of strangers, I love these traditions. I love them because they are two of the few times every year that the students come together as a unified front to assert their communal voice. How empowering it is to be part of a group of people who come together in defense of a common cause (in this case, the noble enterprises of claiming the right to run around naked in the rain and commandeering a few square acres of campus to use as a communal hotbox).
While university officials make formal gestures of disapproval of the annual smokeout (shutting down public transportation to and from campus every April 20th), they do very little to actually deter anyone from participating in the mass cannabis consumption every year. And any half-hearted attempts that administrators might have made in the past to discourage the naked run ceased years ago. During the last few years, the university has even set up hydration stations along the streakers' routes and handed out cups of water to the runners.
It is generally understood that any efforts on the part of the university to squash these traditions would be futile. When thousands of people descend en masse on Porter Meadow to toke up every year, there is very little that campus authorities can do to stop them without having a riot on their hands. And when multitudes of undergrads decide that they are going to jog around campus in the buff, there isn't much anyone can do to convince them not to.
I didn't always participate actively in these events, but when they rolled around every year I still felt exhilarated to be a member of a student body that could so successfully find and express its communal voice.
…which is why I was so unpleasantly surprised by the students' responses to the budget cuts and tuition hikes that have taken place over the last few years.
In 2010, the UC regents announced that there would be a 32% tuition raise at UC  schools. Instead of utilizing their communal voice that has proven to be so effective, UCSC students splintered into contentious factions.
While a vast number of students declined to make any effort to understand or investigate the reasons behind the extreme cuts, perhaps the most disturbing responses to the budget adjustments were the students who resorted to militant tactics. They tried to organize campus shutdowns, inciting as many students as they could to create a blockade obstructing both campus entrances. Building occupations became almost weekly occurrences. Handfuls of protesters would lock themselves in campus buildings, forcing classes to be cancelled and refusing to allow professors access to their offices.
These drastic measures were effective in the sense that they caught the attention of the rest of the students and members of the Santa Cruz community. But in pretty much every other aspect, they were a disaster. The attempts at shutting down the campus rarely resulted in any kind of productive dialogue between the protestors and the regents who were responsible for making the budget cuts. And instead of trying to spread awareness through non-destructive methods, those occupying campus buildings almost always left vandalized classrooms and damaged furniture in their wake. The cost of the repairs that these occupations necessitated resulted in an even heavier financial burden on UC students.
Had these extreme reactions to the budget crisis been decided on through some kind of democratic student forum, or had there been more deliberate measures taken towards beginning a conversation between the students and university administrators, I would have felt a little more comfortable supporting them.
I couldn't understand why we were able to so effectively band together in order to defend our rights to run naked around campus or host a smokeout every year, but fall so short when it came to trying to find a realistic solution to a common problem we all faced.
A few weeks ago, Governor Brown presented a budget proposal that will cut another half a billion dollars from the UC budget. This would reduce state support for the university to 1998 funding levels, despite the fact that there are now 50,000 more students enrolled in the various UC campuses. For the first time ever, the state would be investing less in UC students' education than the students themselves pay in tuition. (Read UC President Yudof's response to the budget proposal here.)
Now more than ever, UC students need to find some common ground on which to make an organized and cohesive stand, but I am more than a little apprehensive as I wait to see how they will choose to respond to this new round of budget butchering. Hopefully, they won't use the threat of more cuts as justification for another slough of retaliatory strikes that arguably cost more than they gain.
Chloe Chatenever lives in Boulder, CO where she is interning with elephantjournal.com and Sweet Letter Press. She is a recent graduate of the University of California, Santa Cruz where she earned her Bachelor's in Modern Literary Studies. She likes to spend her free time traveling, singing in her car, and playing board games. She also thinks penguins are pretty cool.