get elephant's newsletter
Sally Kempton is my teacher because she's not my teacher.
While interviewing Sally about her new book Meditation For The Love Of It, I recalled a conversation Sally and I had on a retreat she was teaching years ago.  It was a cool fall day in northern California, and Sally and I sat on the porch in a lovely wood glade warmed by the afternoon sun discussing my practice and our relationship.  After some conversation about the things we typically enjoyed talking about, like the cultural significance of Kiefer Sutherland's high-octane loner character Jack Bauer on the series 24 and the fun quirks of our modern spiritual experience, we settled in to discuss a question I had been asking: if she would be my teacher. I'll never forget what she said to me, "Kris, I've given this teacher thing a lot of thought, and I don't think it's right.  It's time for you to figure it out.  It's not going to be me or anyone else.  It's time you've made it about you.  I'm your friend and sometimes your guide, but I'm not your teacher.  You've walked far enough and now you have to walk the rest of the way.  And, I love you."
In that moment Sally become my teacher, even though she's not my teacher.  She has supported me in countless ways and I am forever grateful for her wisdom, skill, humor, and insight.  Whenever I bow, wherever I bow, in my heart I bow to her.
This is the second of a three part interview about her new book, Meditation For The Love Of It.  You can find her book published by Sounds True on Amazon.com.

To read SALLY KEMPTON on Meditation, Studentship, and The Future of Spirituality I/III.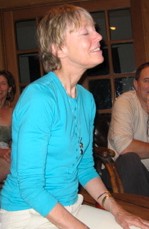 Kris:  In the first chapter of your book you talk about having a goal.  In certain terms this seems counter intuitive to the spiritual culture we've created in the west the last forty years.  Where do you think the hesitation of having spiritual goals originated?  Why is having a goal so important?
Sally:  Having a goal — that is, a strong intention, a sense of directionality — is crucial to any endeavor, and that is especially true of meditation. As I say in the book, if you don't have an idea of where you're going, you're liable to end up anywhere.  Even to be able to sit to meditate, you need to make it a priority–the pulls of our external life are so strong, so seductive. So you have to know that you want an inner life, you have to have a strong intention to evolve spiritually in order to give meditation a real place in your life.  Of course, goals change and evolve. But when we start with a strong intention, the intention strongly influences the outcome. For instance, if you know that your goal is immersion in pure Awareness,  pure love, the True Self, that goal will orient your practice so that it actually has that result. That doesn't mean you ignore process. The book emphasises paying attention to process.
Kris:    You have seen about 40 years of spiritual culture in both the east and west.  How has the conversation evolved (or devolved) over the years?  Where do you think we're heading?
Sally:    I believe we're headed towards what we might call a world spirituality, or fusion spirituality, in which we are integrating practices that might have come originally from Hinduism or Buddhism or Christianity or Judaism,  and from developmental psychology or other contemporary modalities. Its a natural development, since we're living in a time when so much spiritual wisdom and so many techniques are available, and practitioners are exposed to the jewels of so many different traditions. But its very necessary that we do that — as teachers and as students — seriously and consciously, because our exposure to all these different practices is both a boon and a danger.
The boon is that we are able to find methods and techniques that specifically address our needs and lacks. Traditionally, you practiced inside your mandala, and you were encouraged not to take teachings from other teachers or traditions. The understanding was that every tradition offered a complete path. And this is true as far as it goes, but when our aim is to live as a fully integrated person, the path of our particular tradition may need some augmentation. Most traditional paths are very strong at certain practices and aspects of the journey, and may not emphasise others.  For instance, the Hindu traditions are fantastic at opening the heart, working with the inner centers, with kundalini, and with devotional practice. Yet they don't emphasise bodhichitta — practice for the benefit of all beings — or basic emptiness, with the same rigor that the Buddhists do. The non-dual Vedantins can do kickass deconstruction of the mind, really help you get free from story, but like the Buddhists, they aren't so good at helping your open the heart.
And the developmentalists offer us ways to work with our personal humanness that the traditions don't address. The power in our time — and its something that as a teacher I've been very grateful for — is that we can make use of all these jewels in our practice. I foresee the development of a genuine world spirituality, a fusion spirituality, that will come through teachers and students who have entered deeply into practice from different traditions, and are bringing them together in a genuine way.
The danger, of course, is of spiritual dilettantism, the Chinese menu approach to practice. So its very important now that teachers have a strong sense of priorities, so that practice is held in a context that encourages exploration but also holding strong to the overall goals of spiritual life. We need to be very clear about our goals, and about why we do what we do. And we also need to recognize that any practice we do needs to be engaged seriously. The old analogy about digging wells is still operative! You don't get water unless you keep drilling in one place. But when you're very clear about where the water is, you can work with different approaches within an overall structure, always staying in alignment with the water.
Kris:    How is this different from Theosophy that emerged in the early 1900s and New Age (for lack of a better term) that emerged in the late 1960s?  Both of these movements made the same claims, right?
Sally:    Each of these movements made genuine contributions. Both of them brought eastern teachings into the western conversation, and worked with eastern teachings in a context that made these teachings accessible on what is now approaching a mass level. I'd also acknowledge the contribution of Earnest Holmes Religious Science, which brought essentially non-dual, Vedantic and Kashmir Shaiva ideas into a highly practical, pragmatic frame that had a tremendous influence on what we now call New Age teachings. Contemporary world spirituality, or fusion spirituality is simply more deeply integrative and, I'd say, spiritually sophistocated than these early movements. Ideally, in includes the best of the traditional approaches, as well as contemporary psychological insight and the insights of science.
Kris:    There is a lot of focus now in the spiritual world on ego development and you've been doing a lot of this work in your workshops – why do you think this is so important?
Sally:    We're humanoids — the ego is an intrinsic part of our equipment as human beings. So if we don't complete the developmental tasks in the realm of the psyche, we end up with big imbalances, which reverberate in our lives and in the lives of the people around us. And I think more and more of us have realized that spiritual progress doesn't just happen on the mat, or in the room with the door shut. Life is also our practice arena, and anything we try to slide around or skip over will turn up smack in the middle of our path a few years down the road.
We need a world of yogis who have also developed the interpersonal and intrapersonal skills that can begin to resolve the problems we face as a society.  In other words, if the world is going to rise to the task that confronts us, the people with access to higher states of consciousness need to have developed a lot of maturity in the normal human sense of the world.
Ego development — or what Ken Wilber calls development through structure-stages — is an absolutely necessary part of growing up.  Developmental psychologists talk about how there are developmental tasks of each stage of life. We need to complete those tasks, otherwise we literally can't feel whole, and our spirituality will always have a bit of fantasy about it. The polarities in the psyche — the different strains of masculine/feminine, work/intimacy, containment/freedom, intellect/emotion — as these are seen, made conscious, and hopefully balanced, as we bring forth more of the fullness of ourselves, the entire psyche expands.
We can contain more, be more present  to others and to the world. Our spiritual realization can be expressed in our actions more skillfully. That's when we're able to positively affect the whole field of consciousness — both by what we do and by who we are in action and relationships. That doesn't happen solely through our inner spiritual work. But what I've found is that when we are doing serious spiritual work, it gives us a powerful platform for the work of ego development, while doing the ego development work gives us a platform for our spiritual unfoldment. The two are synergistic with each other, and also with the path of skillful activity in the world.
Kris:    Why do you think this is a fairly new concept in spirituality?
Sally:    Its always been somewhat implicit in the traditions, but until the 20th century we didn't have the structures and tools for working with the psyche in the way we now have. Western psychological disciplines make a whole new level of spiritual work possible. I'd say that the insights and tools of western psychology have added a deep and necessary level to our understanding of the spiritual path. This has developed exponentially since the 1970s, when psychologically trained westerners began to study and practice in eastern paths as well as in western contemplative paths.  The combination of spiritual insight and psychological insight that we now have access to is literally world changing, not to mention mind-blowing!
Check back in a few days for the third installment of SALLY KEMPTON on Meditation, Studentship, and The Future of Spirituality.