get elephant's newsletter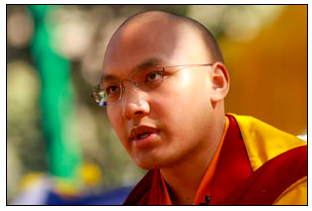 In 1409 in Lhasa, the great meditation master Tsong Khapa began an annual "wish-path" prayer festival, or Monlam, held for a week before the new year. Eventually it became the country's greatest religious festival, drawing tens of thousands of monks and householders to chant prayers and perform religious rituals at the city's sacred Jokhang Temple. For more than 500 years devotees gathered to celebrate. Then, in the 1950s, the People's Liberation Army began their invasion of Tibet, catalyzing genocide and mass exodus. Although some monasteries continued to perform smaller Monlams, the large ritual gatherings ceased.
Monlams were reborn in Bodh Gaya in the early 80s. These days all four schools of Tibetan Buddhism host a weeklong prayer festival at the Mahabodhi Stupa. From December 15th through the 22nd, I joined the Karma Kagyu's 28th iteration as the 26-year-old 17th Karmapa, Orgyen Trinley Dorje led 3,000 aspirants from around the globe through a series of teachings and prayers meant to bring peace and harmony to the world.
*    *    *
Arriving in Bodhgaya at four a.m., I watched streams of red-cloaked monks and nuns make their way through the smoky darkness. With monks, tourists, and old Tibetans muttering prayers I bumped along the circumambulation route; inside the temple lay manicured lawns, small stupas, marigolds in plastic cups. In the center the enormous stone tower, carved in cones and cupolas, rose orange in the morning dusk.
I found the platform reserved for international sangha under the sweeping foliage of the Bodhi tree, and settled into the crowd. At six a.m. sharp, a gong sounded and the low, somber chant began. Half an hour later, lines of monks ran through the multitudes with large baskets of ting-mo, round steamed bread. Taiwanese women wearing face masks carried enormous metal teapots. We held out our cups as they poured milky chai. I dipped my bread into the steaming liquid and watched. So many stories, voices, bodies from far away places, all gathered on the same red cushions, sharing breakfast.
A committee of 80 administrators and more than 1,000 volunteers organized this year's festival. Staff wore color-coded uniforms. They taped off seating areas. They handed out shoe bags and served snacks. Flowers draped every wall; offering baskets of fruit, cookies, and fried bread adorned the shrine beside rows and rows of tormas, beautiful Tibetan butter sculptures.
On the international platform, I was a minority, hemmed by Taiwanese, Koreans, Vietnamese, Japanese. All around me sat French and Russian, Poles and Swiss. Tibetans in blue chubas lined the grassy slopes behind us; below us hundreds of monks and nuns flashed red and yellow in the morning light. Together we bowed and chanted through the days as techs plugged in microphones and worried the sound board. Practitioners from all over the world leafed through their Monlam prayer books, the pages transliterated into Polish, French, Chinese, Korean; each group sported earbuds and held ipods tuned to the appropriate station for live translation of the Karmapa's words. The Kagyu Monlam, born of an ancient, isolated kingdom, has, however improbably, gone global. Somehow this ritual, once limited to a homogenous tribe in the Himalayas, manages to embody the hopes and aspirations of thousands of international urbanites, sophisticated devotees who come here to pray for a planet at peace with itself.
*    *    *
The newest version of the Karmapa fits this picture to a tee. With designer rimless glasses, impeccable English and Mandarin, and a cutting-edge approach to Buddhist practice, he fuses the old and the new into a seemingly seamless presence. Forced into exile at the age of 14, he took up residence at Gyuto Monastery and continued rigorous study in dharma, history, politics, language, and the arts. Today he holds dual roles, acting as both a political and religious leader. Everywhere he goes throngs follow, bowing and offering silk scarves. Like a beloved monarch, he draws thousands to his temple to wait for hours at the chance of a blessing from his hand. Perhaps more than his position as religious leader, his emphasis on healthy living, cleaning the environment, and world peace draw the admiration of non-Tibetan devotees. Like their Tibetan counterparts, foreigners now jockey for his attention, willing to travel halfway around the world, prostrate to his throne, and pray for his long life in a language they do not understand.
During his closing remarks, the Karmapa emphasized the need for us to stay humble, to respect all religious traditions, and to refrain from thinking that ours is the best. "The Kagyu Monlam is an expression of our love for the world and all living beings, and I want it to be accessible to as many people as possible," he said. In this interest, he has changed the traditional text, including more nonsectarian prayers. In the book's introduction, he explains: "In the past, most Tibetans considered the traditions of their own lineages and monasteries to be the most important… At this time, when the old and new begin to converge…I hope that my genuine nonsectarian approach will purify all the stains that come from regarding one's own tradition as superior…"
The movement is mutual; people around the world practice Tibetan Buddhism as its leaders work to realize the global connection essential to their teachings. At the ending ceremony on December 22nd, we squeezed into a crowd swelled by the evening's promise of entertainment. After dedication prayers, a rich-throated Korean monk chanted a refuge prayer with heart-breaking sincerity. A hush settled as a group of Vietnamese bhikkus took the stage, sounding their throaty hymn. Thirty Taiwanese devotees clad in matching purple fleece and multicolored circus caps performed a song about the empty nature of mind, complete with playful choreography. Lifting their hands and waggling their fingers in the air, they evoked the metaphor of the full moon on water as they sang about life's illusory reflections. Instead of applause, the audience offered thousands of fingers moving like water in the evening twilight. The last group to take the stage was German. Stille Nacht, Heilige Nacht, we sang together, under the enormous bodhi tree, amid a thousand yellow lights.