get elephant's newsletter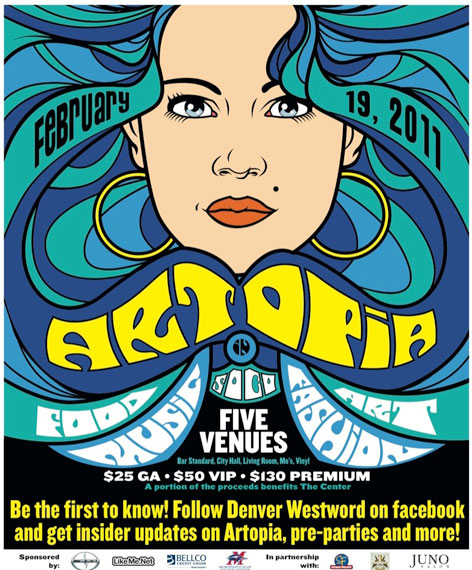 WESTWORD PRESENTS

ARTOPIA 2011
AN EVENING OF DENVER'S BEST LOCAL ARTISTS, MUSICIANS AND PERFORMERS FEATURING PERFORMANCES BY:
PREFUSE 73, SIGNAL PATH & THE HOOD INTERNET
Artopia, Westword's fifteenth annual celebration of the arts, is bigger than ever, with five Broadway venues featuring the work of some of Denver's best visual artists; fashion shows by local designers, culinary creations from a dozen of Denver's favorite restaurants and specialty cocktails mixed exclusively for Artopia attendees.
This year's entertainment will showcase an eclectic mix of artists, musicians and performers including performances by:
Prefuse 73, Signal Path, The Hood Internet, The Knew, Lion Sized, Overcasters, The Epilogues, Electronic Music Petting Zoo, Fresh2Death, The Don'ts and Be Carefuls, The Centennial, and Petals of Spain, Professor Phelyx, Stephen Daniel Karpik, Sven Jorgensen, Lucia De Giovanni, Statuechick, bunny M, Samurai Demons of OFM, Orange Peele Moses, Colorado Gothic Lolita Society, Thomas Ezans, Cora Vette and BurlyCute, Maggie McPeak, Justin Simoni, Collaborative Movement, Kamla Presswalla, Jennifer Cohen, Tara Rynders, Mad Tatters and MORE!
Additionally, attendees will enjoy interactive features, fashion shows, shop our eclectic marketplace and witness the big reveal of this year's class of MasterMinds.
Sponsors of this year's Artopia include:
Scion, Juno Salon, 3 Little Birds Salon, Smoker Friendly, Bellco Credit Union, LikeMe.Net, and Metro State, proud sponsor of the 2011 MasterMind Awards.
WHEN:
Saturday, February 19, 2011
7pm – 2am
WHERE:
Vinyl, 1082 Broadway, Denver
Bar Standard, 1037 Broadway, Denver
Mo's, 1027 Broadway, Denver
The Living Room, 1055 Broadway, Denver
City Hall Amphitheatre, 1144 Broadway, Denver

FEATURES:
The 2011 MasterMind Awards ceremony, which honors the city's most innovative artists and organizations with cash prizes, will be held at 8pm. This year's MasterMind Awards are proudly sponsored by Metro State.
TICKETS:
GA $25 in advance
$30 day of event includes entertainment, complimentary food samples and liquor/beer tastings.
VIP tickets $50, $75 day of event includes no line/no wait, VIP entrances and lounges, catered food and goodie bag.
Premium tickets $130 includes VIP amenities and access to all you can drink (must be 21+ to purchase).
Tickets are available at www.westword.com or by calling 303-296-7744.
BENEFICIARY: A portion of the proceeds benefits The Center.
INFORMATION: For a complete schedule and profiles of the participating artists/arts groups, to www.westword.com
MEDIA CONTACT: Tanna Ruzicka, director of marketing, Westword, 303-293-3595 or [email protected]