get elephant's newsletter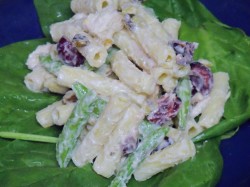 Grilled chicken with pasta, asiago, cherries, sugar snap peas & walnuts.
This quick and easy springtime salad is perfect for a family or a crowd, and the mix of sweet and savory, crunchy and tender makes it a pleasure to eat.
For the recipe, click here.
Elephant:Now
...is a new feature on Elephant Journal—enabling you to instantly share your mindful ideas, photos, art, YouTube videos/Instagram links & writings with our 5 million readers. Try it Now.