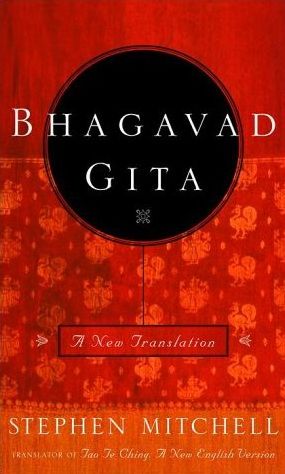 The Bhagavad Gita is Sublimely Simple, Profound, and Liveable
Does this statement startle you?
I'm guessing that many of you feel the opposite about the Gita at this point–that it is complex, obtuse and perhaps even upsetting.
The last two weeks we have talked about complexity.
This week we're going to talk about blinding simplicity.
What is the blindingly simple message of the Gita?
LIVE YOUR LIFE WITH LOVE AND PURPOSE,
DETACHING EGO FROM RESULTS
FOCUS THE MIND
EXPERIENCE INFINITE WONDER IN ALL THINGS
(INCLUDING OURSELVES)
As they say about the Golden Rule, all the rest is commentary.
The Chapters we have read so far, 1-6, deal primarily with the first two of these themes.
It's a great revelation to read the Gita by major theme instead of in the order it's written.  That's why I painstakingly created Gita in a Nutshell: Big Ideas & Best Quotations, to dramatically illustrate this point.
Let's just take this first theme above, for example, which is Gita in a Nutshell #1.  The Gita contains many powerful passages on this theme, but they are scattered throughout the text.  When you read them all together, as in the link below, the main ideas jump off the page with crystalline clarity:
LIVE AND ACT WITH LOVE AND PURPOSE,
DETACHING EGO FROM RESULTS (GN #1)
2.48, 2.50, 3.7, 3.19, 3.25, 3.30, 4.18-24, 5.23-25, 6.1-4, 7.28, 11.55, 12.13-14, 18.53
 (If you're curious and want to look ahead, all the other major themes of the Gita are also available this way in Gita in a Nutshell.  But we'll be getting to them all as we move through the rest of the text, too, so there is no hurry.)
I hope you find this surprising and thought provoking.
I hope it helps give you a vision of where we're going, so that you can better negotiate the challenges of the text.
If you are overwhelmed by the Gita, I hope you find it encouraging.
I suggest you come back to it often when you're feeling confused.
And if you think I'm full of beans, I look forward to your critique.
Please give us your thoughts:
–How are you feeling about the Bhagavad Gita at this point?
–How did you feel about the reading for this week, chapters 5-6, p. 81-98?
–What did you like?  What did you dislike?
–How does it relate to your life?
–What questions would you like to ask?
The reading for the next week is
Gita in a Nutshell #1 above,
plus Chapter 7, p. 99-105.
Previous Blog:
Gandhi's Bible or a Call to War? (Gita Talk 4)

Next Blog:
And Now for Something Completely Different. (Gita Talk 6)

All Blogs:
Welcome to Gita Talk:
Online Discussion of the Bhagavad Gita. (Round 2)

~

Ongoing Resources:

Gita in a Nutshell: Big Ideas & Best Quotations

The Original Sixteen Session Gita Talk


~

Join Gita Talk Facebook Group for weekly notices
and to meet fellow participants.