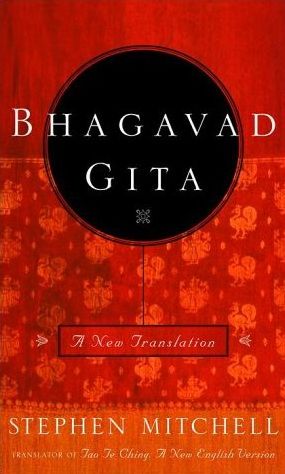 Welcome!  We're glad you're here. Gita Talk is a self-paced online discussion of the Bhagavad Gita: A New Translation by Stephen Mitchell.
Gita Talk was created as a weekly online book club.  But now that it's completed, you can just dive in and go at your own pace.  Each blog gives you the short reading assignment for the next blog, and all blogs remain open for further discussion.
Tell us what's on your mind. Ask us the questions you were asking yourself as you were reading. Read other readers comments.  Engage in conversation.  We're a friendly bunch.
You will always get a personal response from us. I'm always anxious to talk to anyone about the Gita.
For an overview of the Bhagavad Gita, a good place to start is:
Bhagavad Gita in a Nutshell:
Big Ideas and Best Quotations
See Yoga Demystified  for a more general but highly relevant introduction to Yoga philosophy.
Please be sure to let me know if I can help you in any way.
The Complete Gita Talk (Round 2)
(All remain open for further discussion)
Ten (mostly funny) reasons to read the Bhagavad Gita.
Falling Head-Over-Heels In Love with the Universe. (Gita Talk 1)

It's Showtime. Please Start Talking All At Once! (Gita Talk 2)
Why Is the Bhagavad Gita So Upsetting At First? (Gita Talk 3)
Gandhi's Bible or a Call to War? (Gita Talk 4)
The Bhagavad Gita is Sublimely Simple,
Profound and Liveable. (Gita Talk 5)
And Now for Something Completely Different. (Gita Talk 6)
First Date with the Gita? If Not, Remember Yours? (Gita Talk 7)
Different Yoga Strokes for Different Yoga Folks. (Gita Talk 8 )
Does the Infinitely Wondrous Universe Give a Damn about You and Me? (Gita Talk 9)
Is the Gita Asking Us to Repress Our Emotions? (Gita Talk 10)
Yoga Embraces All Gods & All Paths (Gita Talk 11)
Is Love Itself the Overriding Theme of the Bhagavad Gita? (Gita Talk 12)
This is the Supreme Wisdom, Experienced Directly, In a Flash. (Gita Talk 13)
Do You Feel Miraculous & Awe-inspiring? (Gita Talk Conclusion)
~
Ongoing Resources:

Gita in a Nutshell: Big Ideas & Best Quotations

The Original Sixteen Session Gita Talk


~

Join Gita Talk Facebook Group for the latest information
on new series and to meet fellow participants.