Join Elephant Academy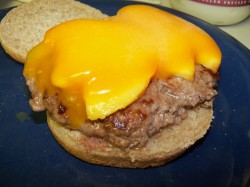 I thought of this nifty little entree while wondering what I was going to do with the few peaches I had left towards the end of peach season. After giving it some thought, I hit upon this idea, and it was even better than I thought it would be. I liked the way the sweetness of the sliced peaches offset the savory burger and the sharp cheddar cheese; this is one I made more than once, much to my own pleasure and that of my family.
For the rest, click here.