get elephant's newsletter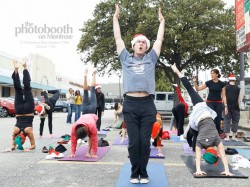 If this doesn't grab you and put you smack dab in the holiday spirit, I don't know what would?!
In the spirit of the season… and to raise awareness and draw the yoga communities together, a festive holiday YOGA flash mob descended upon Montrose and Westheimer, in the busy area near downtown Houston, Texas. Over 30 yogis representing at least 6 different area yoga studios, sun saluted, free formed and rocked it out to a jingly song. Merry happy to y'all!
video by Scott Allen & Cypher Design Studio