get elephant's newsletter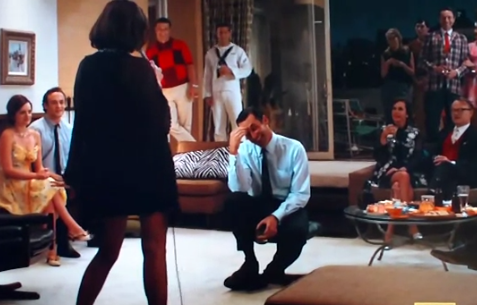 I've been in love with Jessica Pare since Season Four…wow. Here she knocks it out of the park, with an awkward, sweet, and of course sexy performance of love for her birthday boy—a Mad Man who hates birthdays.
"Zou Bisou Bisou" was a Twitter trending topic all day on Monday, AMC released the song as a single on iTunes, and The Roots even played the song as interstitial music barely 24 hours after the episode aired…

…Not bad for a 50-year-old, mostly forgotten song about how kissing is fun.

But overlooked was the awkwardness of the performance. As an isolated clip, Pare puts on a seductive show, but in the context of the episode, Don couldn't be more uncomfortable that his wife is giving him a yé-yé lap dance a la mode in front of his colleagues. Matthew Weiner even told GQ that he intended audiences to cringe when she begins dancing.
Cute performance from Megan for Don's surprise birthday party. Zou bisou bisou. She stole the show.

Sorry I left out Roger and Jane's funny little exchange afterwards.

Roger: Why don't you sing like that?
Jane: Why don't you look like him?