get elephant's newsletter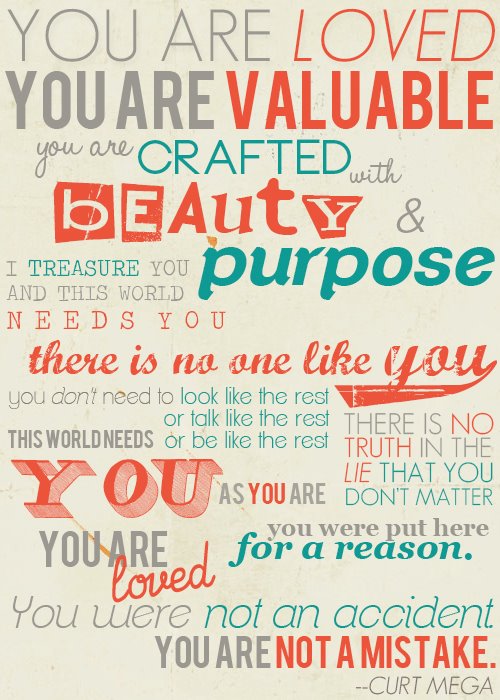 Don't ever forget it.
I saw this a few weeks ago and thought it was sweet. Then, like so many of the things we see or "like" or "pin," I forgot about it. A friend shared a quote that brought it back to mind today, so I googled "You are loved tumblr" and was amazed at what I found.
I read one woman's story of trying to overcome depression. I saw countless pictures of uplifting graffiti. I read letters to strangers, from strangers—letters of hope and encouragement. I saw this:
"You matter to me. You matter in this world. I don't know who is reading this, but I know that you matter. I know that you're special. And I know that you deserve to be loved. You are loved. I don't know who you are, but you are loved."
After looking awhile, I found what I was looking for and it felt more moving than when I had first seen it. Seeing the desire in so many people, not to push themselves forward, not to advance some personal agenda, but to share hope—to encourage others that no matter where they are or what's going on in their lives, they are loved, left me in awe.
So to you, in case you have forgotten lately:
You are loved.
You are lovable right now.
Not when you've gotten your act together.
Not when you are in better shape.
Not when you have more money.
Now.
There is nothing about you that is a mistake.
There is nothing about you to be ashamed of or worried about.
You are loved.
Elephant:Now
...is a new feature on Elephant Journal—enabling you to instantly share your mindful ideas, photos, art, YouTube videos/Instagram links & writings with our 5 million readers. Try it Now.