get elephant's newsletter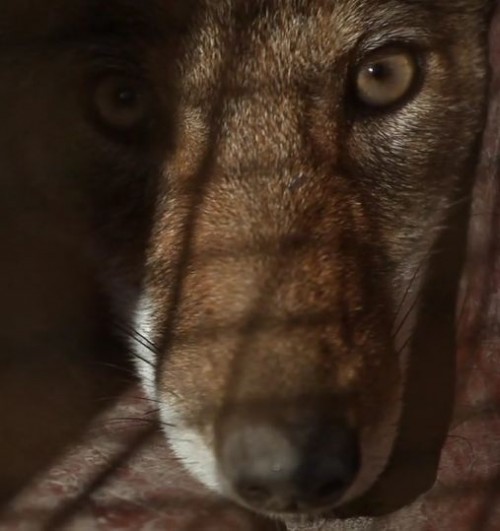 "We have doomed the wolf not for what it is, but for what we deliberately and mistakenly perceive it to be—the mythologized epitome of a savage ruthless killer—which is, in reality, no more than a reflected image of ourselves." ~ Farley Mowat

{Warning: graphic imagery}
North Carolina law allows daytime hunting of coyotes all year. An amendment to that rule was recently passed by the North Carolina Wildlife Resources Commission allowing for nighttime hunting and the use of electronic calls and artificial lights.
This poses a potential threat to endangered red wolves who, despite larger size and other differentiating features, can look similar to coyotes in the wild during day or night.
The red wolf population in northeastern North Carolina of between 90 and 100 individuals is the only wild red wolf population in the world. During the gun seasons from October to December of 2011, seven red wolves died as a result of human's suspected illegal activity, including gunshot.
Some people want to control the growing coyote population by hunting. They say that shooting coyotes will help the red wolf, even if some red wolves are killed.
However, biologists with the U.S. Fish and Wildlife Service believe that hunting coyotes allows more breeding coyotes to come into an area. Instead, the biologists sterilize and release them back into the wild. This allows the territorial animal to keep other breeding individuals away. It also keeps the nonnative coyotes from interbreeding with native red wolves.
*Please visit the WildSides Facebook Page to see updates about the pending North Carolina Rules Review Committee meeting about the rule in June.
 *****
Jeff Mittelstadt is a recent graduate of the master's program in the School of Journalism and Mass Communication at The University of North Carolina, at Chapel Hill. He is the founder and president of WildSides, a nonprofit that creates interactive, web-based ongoing coverage of wildlife and human conflict to facilitate education and solution development. He was a copy editor, writer, researcher, videographer and photographer for Powering A Nation's award-winning multimedia site on the U.S. relationship with coal: CoalALovestory.com. Prior to journalism he worked in sustainable enterprise, green building, renewable energy, and environmental policy and economics. Find out more about Jeff's work by visiting WildSides.org where you can enter the red wolf experience. Connect with Jeff on Facebook & Twitter: twitter.com/WildSides / twitter.com/Jeffmitty.

~

Editor: Andrea B.