get elephant's newsletter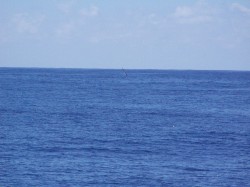 Once 300,000 blue whales, now 10,000. Their population has stabilized, though they get hit (and killed) by ships constantly.
Here's a life-size photo of a Blue Whale.
The songs of blue whales are getting deeper annually—see this Ted Video for why. It's "ingenious, and depressing."
A Blue Whale's tongue weighs as much as an elephant, and you could swim down some of its blood vessels.
Beautiful.
http://www.youtube.com/watch?v=l9QaFkG17ds
More: