get elephant's newsletter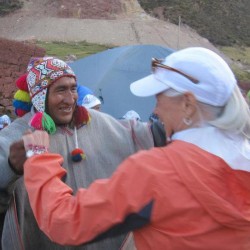 Mama Picchu. {First look: Video Trailer}
My mom is my hero, always has been, always will be. 
She dedicated her life to raising four wonderful children and while she loved it, she rarely took the time to do anything for herself, until this year.  In October of 2011, she committed herself to a difficult trek in Peru and I made a film about the journey. 
I've made a lot of short adventure films in the past few years, but I'm most proud of this one.   It'll have its world premiere at the  Adventure Film festival on Saturday October 6th at 2pm at the Boulder Theater. 
RSVP here.

I would love for you all to come out for a story that will make you laugh, cry and walk away inspired. 
Synopsis: Single mother of four Donna Jobert seeks her first adventure in 30 years.  Heart issues and physical fitness are the obstacles standing between her and the summit of Machu Picchu.  With two grown sons by her side, hers is a story of overcoming self doubt and recapturing a zest for life, whether she makes the summit or not.
Here's the trailer:
Donna Jobert has long deserved to have a movie made about her life and here it is! I promise that you'll laugh, cry and walk away inspired. Let's pack the theater and shower this woman (my mom) with love!

Synopsis-Single mother of four Donna Jobert seeks her first adventure in 30 years. Heart issues and physical fitness are the obstacles standing between her and the summit of Machu Picchu. With two grown sons by her side, he