get elephant's newsletter

On September 28th, New York City hosts The Battle of the Bike Ban, in  The Great Hall at Cooper Union, for its 25th Anniversary celebration of defeating Mayor Ed Koch's attempt to ban bikes on Park, Madison and Fifth avenues in Manhattan.
It is also for commemorating the strides made in bicycle advocacy since bike advocates came together with an eye on strengthening the bike movement and making our streets safe.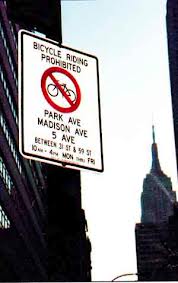 Sponsored by economist activist, Charles Komanoff and NYC's Direct Action Environmental Organization, Time's Up!, the event is partially billed as a reunion for participants in 1987's rolling street demonstrations opposing the Mayor's decision. Mayor Koch, in his most well-meaning intent, was no doubt out to solve why so many people rode backwards too fast, scaring pedestrians and frustrating traffic-stuck drivers, jealous their vehicles couldn't get through traffic like the bikes.
The event starts with an in tandem-ish six o'clock ride, with the evening's last Friday of the month Critical Mass Ride to commemorate that inspirational time, noteworthily remembered for peaceful demonstrations.
At 9 PM in The Great Hall, the vintage, courier-centric documentary, Fifth, Park and Madison will be shown to celebrate the real forward progress bicycling has made from before—and since—Mayor Koch's watershed event provided visibility to battle the bike ban.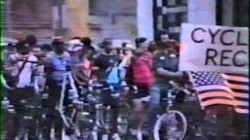 I may have only gone to two demonstrations in 1987, because after I noticed Dragan Ilic, with the camera, for the second day in a row, I offered to write something. He decided I was his intern and I logged all the videotape at night and wrote the script on the inside steps of the Madison Avenue entrance to 42nd Street's Lincoln Building.
I am personally grateful for the work that went into making Fifth, Park and Madison's inclusion in The Battle of the Bike Ban festivities possible; documentary producer, the artist, Dragan and I hope everyone thoroughly enjoys our part in the show.
Please note that I will give a short introduction of the documentary and there will be a panel discussion afterwards.
Charles M. Fraser studied history at the University of Central Florida and wrote the novel The Hammer and Cycle Messenger Service.

~

Editor: Bryonie Wise