get elephant's newsletter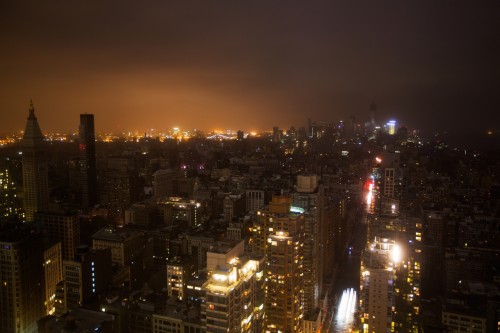 This is #48 of 108 Ways to Livin the Moment. Let's take back our lives one beautiful, funny, and delicious moment at a time.
#48 of 108: Heal the Blackout Blues
"The Hudson River came in and filled half of Hoboken like a bathtub." ~ Hoboken Mayor Dawn Zimmer
As you have probably heard, everything south of 39th St in Manhattan is currently without power and for many, without cell phone service.
Here are three lessons I learned yesterday, walking the streets of Lower Manhattan, constantly and worthlessly checking my iPhone like a phantom limb.
1. The News Is In Front Of  You
When my wife and I finally walked past the frontier (north of 39th St), we got a signal and checked all the news and Twitter updates. But some of the Twitter updates were inaccurate or underestimated the impact—or were from people in Chicago saying it was a wussy storm.
I realized the most relevant news is not what's happening on CNN or Twitter but what's happening at home, in your immediate vicinity, with the people you can touch and talk to.
Thanks to the internet, I know more about what's going on Syria than I do with my neighbors and that is not right.
2. You Never Have To "Lose Power"
There was a moment walking along First Avenue, when I felt so frustrated.
The Con Edison employee told us it would be four or five days until we would have power; that is an awful thing to hear.
Four or five days without power?  I felt like it was four or five days until I could resume living.
I withered.
We have become so dependent on outside sources of power.
If your world suddenly went black as the Secretary of Defense predicts will happen due to cyberterrorism, would you have the capacity to keep going…or would you wither?
Author Elbert Hubbard said something really interesting, way back in 1923:
"One machine can do the work of 50 ordinary people. No machine can do the work of one extraordinary person."
3.  Be Prepared
Hurricane Irene missed New York City last year and lots of people failed to take Sandy seriously; you hear the warnings and you never think it will happen.
Last night, there was a guy frantically roaming First Avenue looking for a AA battery for his tiny flashlight, so he wouldn't have to spend the night in darkness.
Who knew how important a AA battery would be in the middle of Manhattan in the year 2012?
When living in LA, I put together an earthquake kit that included a radio you powered by turning a crank; my friends said I was nuts!
Lemme tell you something: that radio would come in very, very handy today.
So wherever you live, whatever disaster you are told is possible, be ready for it.
As even the most badass Jersey boy or streetsmart New Yorker will tell you right now, there's nothing like the force of Mother Nature to bring you to your knees and show some Respect.

R-E-S-P-E-C-T!
You might have heard me share Frank Zappa's quote, "In the fight between you and the universe, back the universe."
The Universe is a force that we forget to honor until we face its fury (ie Sandy); it's a big thing to forget, way worse than forgetting your wallet or keys.
I invite you to join me in having some fun getting back in alignment with the Universe.
This January will be the first in a series of week-long online sessions I will be leading in the new year.
Let's rock 2013! Email [email protected] and write Momenteer! in the subject.
~

Editor: Bryonie Wise