get elephant's newsletter

The Scandinavian modern style colossal box store, Ikea, is under scrutiny and has withdrawn their meatballs from the market shelves in numerous European countries.
Apparently, in the Czech Republic, the Czech veterinary authority detected horse DNA in the one-kilogram packs of the frozen meat balls—labeled as beef and pork.
 "A total of 760kg (1,675lb) of the meatballs have been intercepted and stopped from reaching Czech shelves," according to the Associated Press.
Meatballs from the same batch, sent from a Swedish supplier, were distributed to Slovakia, Hungary, France, Britain, Portugal, the Netherlands, Belgium, Spain, Italy, Greece, Cyprus and Ireland. The list is growing as I type.
I've always wondered why Ikea was selling meatballs in the first place—aren't they known for assemble-it-yourself furniture and accessories?
Have they become such a giant that they added an entire cafeteria to their business model to cater to our expanding population? As you wander around Ikea, you probably hear such comments:
"Hey Lisa, I'm going to grab a bowl of delicious (horse) meatballs while you decide on a pattern for the ultrasuede sofa."

"Sounds good, Tom, would you swing through the frozen food aisle —we're out of breakfast sausage."
Having friends that rave about this trademark blue and yellow box store and their meatballs—I have sampled the infamous Ikea meatball. With Italian blood running through my body, I was hardly impressed and actually sort of grossed out. The best part about the meatball was the hint of maple syrup. Syrup improves everything—especially those sausage-y meats!
Reading article upon article, I realize that there is a huge issue taking place and it involves more than the detection of horse DNA. The issue is also about false labeling.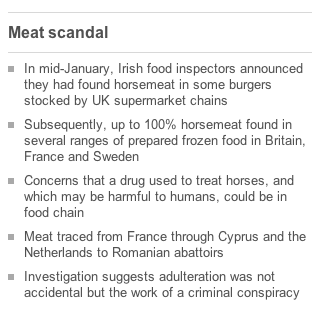 The issue gained momentum and press coverage in January when Ireland uncovered alarming results from its first-ever DNA tests on beef products—beef burgers were procured from various supermarkets and tested. I'd wager that this situation has been an issue long before these suppliers were caught.
Obviously, I know nothing about the meat-packing plant industry.
I imagine that the fellow meat-packing plant manager might argue that they handle a variety of meat at their facility and there is a small margin of DNA residing in the equipment during the process. They have a job to do.
In fact, Sweden's food safety authority plans to hurry up and wait for Czech authorities to specify the quantity of horse meat detected.
"If it's less than one percent it could mean that they handled horse meat at the same facility. If it's more, we assess that it's been mixed into the product," said Karin Cerenius of Sweden's National Food Agency.
This topic is on the agenda for the European Union officials as they address tougher food labeling rules specifically focusing on meatballs, burgers, kebabs, lasagna, pizza, tortelloni, ravioli, empanadas and meat pies.
One might deduce that evidence over the past month indicates national food safety authorities have failed to identify a problem within the supply chain —another reason to do your research as a consumer.
Try your best to determine where your products are coming from. This is incredibly challenging and I struggle. My hope is, if we continue to educate ourselves and support healthy products, perhaps there will be a shift in the paradigm. Wishful thinking.
As an aside, I'm an interior designer and during a team meeting, a fellow designer shared the philiosophy behind the design of Ikea's typical floorplan—or traffic flow plan—to push patrons through their space. Their strategic planning funnels you, the consumer, through their maze of products encouraging impulse purchases. Seems pretty intuitive right? It's rather fascinating and reason enough for me to frequent the local market and boutique owners adorable shop instead.
Lacy Rae Ramunno is a gal who chases many butterflies. An artist at heart, Interior Designer by trade, a lover of nature and all things snow capped. Passionate about healthy living and balance, she recently relocated to Huaraz, Peru in search of a soul-enriching experience. Thankfully, she's maintained remote employment with a fantastic firm and participating in an apprenticeship with elephant journal. Lacy is currently rediscovering her talent for visual communication through different mediums – while learning to pair that love with the written word as a component of her journey. Perhaps she'll pick up some Spanish along the way.
Ed: Brianna Bemel