get elephant's newsletter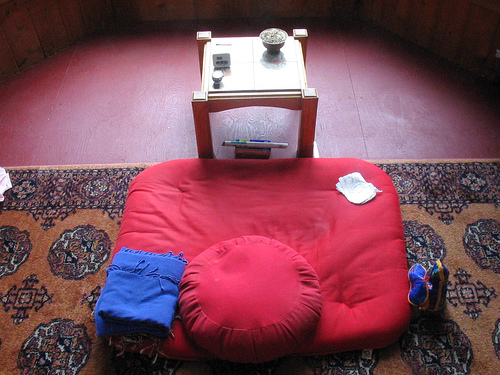 You encourage someone to try meditating, and they come up with excuses as to why they don't. "No I can't sit quietly" or "I'm just not interested." Some of them even look at you in a funny way. "Meditation? Are you trying to be a sanyasi?"
I used to have the same outlook towards meditation, but then I decided to try a Vipassana meditation course over a year ago. I completed my second course this year and will continue to do one such course each year for the rest of my life. These past two years have not only changed my outlook towards meditation but life in general.
Here is a list of five things everybody needs to understand about meditation:
Meditation takes you from your normal agitated mental state and brings you to a state of equanimity, a state of "no reaction"; it is simply awareness of what is happening around you. And this state of mind doesn't limit itself to the time you meditate; it progressively becomes your natural state of mind. You become an observer, and this is crucial to understanding the universal nature of things.

Half of the time we are lost in little things, totally oblivious to what we are doing. Now picture yourself in a meditative state, aware, conscious, compassionate, equanimous. Wouldn't life be more beautiful this way?
2. Meditation is in no way about suffering.
I have talked to a lot of people who see meditation as a kind of suffering or an act which means renouncing life. But, think about this, how can you analyze meditation in your current state of mind? It's like trying to understand a drunk without ever having tried alcohol.

Just take into account the change of mental states that allow you see the bigger picture. How much peace someone must feel so that he can sit for hours without moving, the equanimity he must have because he doesn't to react to anything in his surroundings and the love he must experience so that he has only best wishes for everyone.
3. Meditation in no way aims to make you thought-less.
Some believe meditation leaves your mind completely free of thought. And this baffles a lot of people; they see this as a struggle. It's a given that many meditation techniques will require you to focus your mind or control your thoughts. This serves to discipline your mind. However, you can never discipline your mind into a state of pure consciousness.

The main point, that should never be overlooked, is that you are taught not to react. When you stop reacting to your thoughts, the chain is finally broken. If you stop supplying the manure the plant will shrivel on its own. Don't be scared of your thoughts, meditation is designed to make you king of them.
4. Meditation converts knowledge into wisdom.
For me, the best part is that the wisdom you gain from meditation comes from your own experience. So it always stays with you—it's not something that comes from a holy book or the discourse of a guru.
5. Meditation removes your fears.
As you mature on this path, you will begin to let go of your fears, because your happiness and peace will no longer depend on external objects. There is no longer a fear of losing, because your gift comes from within. And, in your every action, love starts to replace fear as the main motivator. A meditator will always follow his passions rather than running away from them.
Explore and learn—there are always new courses starting at the university of life.
Pavneet Tiwana is an avid traveler who is trying to find his own piece of this world. Along the way he collects special skills and hobbies like meditating, skiing, climbing and playing musical instruments. He blogs at travellerthebuddha.com and is currently working on a Wikipedia-like project where people can get together to figure out the 10 best links to solve a problem or understand an issue.
Assist Ed: Dejah Beauchamp/Ed: Sara Crolick